At least 430 migrants crossed the English Channel to Britain on Monday. This is the highest number recorded in one day, DPA and AP reported.
Photo: SITA/AP, Gareth Fuller

The boat appears to be from France or Belgium after landing on the coast of the county of Kent in the south-east of England on Monday 19 July 2021.

One of the boats, apparently sailing from France or Belgium, landed on the coast of Kent in the south-east of England on Monday. There were about 50 people on board, including women and small children. Other migrants landed elsewhere.
This broke the record from last September, when 416 migrants arrived in Britain in one day, according to a balance sheet compiled by PA Media.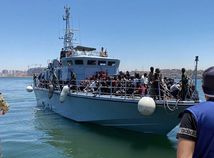 Read more Twice as many migrants died as they tried to get to Europe last year

A new record was set at a time when British MEPs are debating a bill to tighten asylum rules and introduce tougher penalties for both smugglers and border guards.
Totally unacceptable
The Home Office has described the current numbers of migrants trying to enter the UK as "completely unacceptable". With the arrival of the summer, the British, in cooperation with the French authorities, "redoubled" their efforts to stop illegal migration – increasing the number of patrols and intensifying the mutual exchange of information.
During the first half of 2021, almost 6,000 migrants arrived in Britain on small boats. Last year, a total of 8,417 migrants crossed the English Channel, a fourfold increase from 2019, according to an analysis by PA Media published in early July.
.