"I hate light. " The statement may seem paradoxical to say the least since someone who has done everything since the fall of 2018 to propel himself to the head of Limoges Cercle Saint-Pierre (CSP), one of the most powerful French basketball, in the spotlight since his first European victory in 1982 but also because of his frequent internal turmoil.
Read also
Basketball: the recovery of CSP Limoges
"I had not thought of this light at all," however ensures Céline Forte on Tuesday, May 21st. A few minutes earlier, she has just introduced the new management team of the club, which she put in place after a multi-month offensive, highly publicized. "Finally, it's mandatory at first. I have to tell the story so I'll be in the light, but it's violence for me, " continues the woman who, at the age of 48, took control of a Limoges club in which she had accompanied her husband, Frédéric, in a rescue and reconstruction operation between 2004 and 2013, the year of their separation.
This reunion, however, she had not planned. But several months after the death of Frédéric Forte, on the night of December 31, 2017, she said to have realized the facts: "When Fred died, I was not interested in the club because I thought (the management team) had been set up by him, so I let it go because I thought it would work. ", she says about the successors of Frederick Forte, among others Yuri Vériéras, Jean-Léonard Picot and Manuel Diaz.
"Little by little, things made it no longer possible. I felt that when the thinking head left, everything fell apart. There was a complete break with partners, journalists, supporters. It was unbearable. I said things but, at some point, when we do not hear you while it's going to hurt, stop! "
"It's linked to the city"
To understand this attachment to the club, we must go back in the 1990s, a glorious era in sports for Limoges CSP. Frédéric Forte, playmaker, is one of the emblems while Céline, "Excellent shooter with three points", plays for the women's section of the club. Normand of origin, the couple is part of the walls of the capital of porcelain.
"It's linked to the city," says Chris Dussuchaud, the former president of Limoges Avenir Basket Club (LABC), who recruited him, not without difficulty, in 1995: "She did not feel at the level, I found it very humble. When she saw the LABC girls playing, she thought she was not able to play with them, but she still came to join her friends I had already recruited. She immediately melted into the group. "
This year is special for Céline Forte, marked at the sporting level by the rise of the club in NF1A, the first division of the time, and at the personal level by a pregnancy. "We did not have a big team in athletic terms but we played very smartly and we were very supportive. Celine was part of that framework. We had a great atmosphere, recalls Florence Le Quintrec, former international and teammate. "She's a very funny woman, adds Cathy Bancarel, captain of the team at the time, at the same time, it is someone who has a taste for victory, undeniably. It's a girl who wets the shirt. "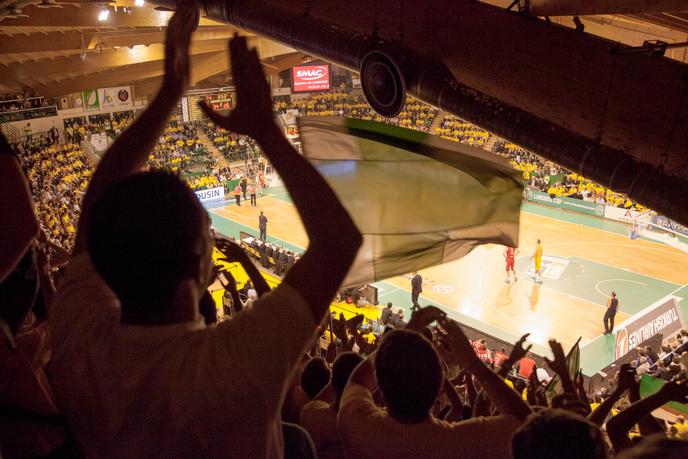 With Dacoury and Ostrowski
After returning to Caen in 2013, after the separation with Frédéric, Celine Forte converted into real estate. An area in which she formed alongside a longtime friend, Agathe Elmosnino. This one rents "His team spirit", but also his calm: "In real estate, one is rather sanguine and she knows how to keep her cool, it is a rare quality. "
Attached to the capital of Calvados and her professional activity, Celine Forte will continue to live there but, according to her family, the Cercle Saint-Pierre is now "Become his priority". When it is blown to him that the choice of this geographical distance can imply to expose himself to the criticisms of the demanding limougeaud public, it marks a pause and recognizes it: "I'm going to take shots, it's part of the game, we are in a club where there is ambition, an obligation of results but maybe I will be armored at that time. I have a well-trained, complementary and skilled team. I'll be connected with them everyday anyway. "
The team in question reflects the desire for an environment of trust. In the Executive Board, there are many figures from the Limoges community, such as Yves Martinez, former international director of the firm Legrand, the lawyer Pierre Fargeaud but also Claude Bolotny, former player and founder of the Limoges CSP training center, as well as Stéphane Ostrowski and Richard Dacoury, also well known for their exploits under the limougeaud jersey.
On the Supervisory Board are, among others, his brother Alexandre Gabriel, his daughter Angiolina Forte, the notary Benoît Poiraud, invested in his fight for the succession, or the former international and multiple champion of France Colette Passemard.
Priesthood or not? Celine Forte assures him: his task " born (him) do not be scared. " Being the only woman at the head of a professional French basketball club? This is him "Fell on it like thatshe insists. I was told that, but I did not have that notion in mind at all. I'm honored, really. " She knows all the more expected at the turn. But, if she concedes "Having trouble (Se) put in the role, she says she is ready. After all, this one is hardly foreign to him, as Florence Le Quintrec recalls: "She was already there in 2004. Taking over the club is the second time for her. "
Jérémy Le Bescont
React or consult all the contributions