Every day a middle-aged man is tempted by a couple of beers in the late afternoon. Possibly there is no technology that can change this behavior that is not good for cholesterol levels, but if it depends on Joe Paton, it shouldn't be long before the Champalimaud Foundation begins to develop technologies that encourage changes in habits and scenarios in favor of health or welfare. A new program specializing in Human Neuroecology and Digital Technology kicks off this Friday with an exhibition that mixes art and science in an old auction house at Docapesca, in Lisbon, which will be transformed, in the coming months, into a scientific laboratory.
"We need to understand why people make certain decisions associated with certain behaviors and develop more suitable protocols for these behaviors", describes Joe Paton, director of the Champalimaud Foundation's Neuroscience Program.
The term "protocol" is used by the scientist to describe tools as common as apps or video games, or more sophisticated technologies of virtual or augmented reality. "The idea is that, through a protocol of this kind, it is possible to get that person who drinks two beers every day to drink only two beers once a week", exemplifies the researcher. The use of digital technologies as a way to influence behaviors and generate new therapies is not unprecedented, despite being far from being vulgarized. Joe Paton recalls that, in some American homes and hospitals, there are already those who use virtual reality technologies with elderly people who suffer from dementia with images that are familiar to them. Also in the USA, the Food and Drug Administration (FDA) recently approved the use of technologies with gadgets already popular for the treatment of drug addicts and/or the mitigation of chronic pain.
In Portugal, neurologist John Krakauer, who also belongs to the Champalimaud Foundation, has been testing video games at the Senior Neurological Campus, in Torres Vedras. In other parts of the country, the first clinics specialized in the treatment of different phobias through video games or virtual scenarios have already appeared.
"The focus is on the brain. Our idea is to be able to transform health in general, through our behavior, which we know originates in the brain, and influences the functioning of the other organs", adds the American researcher, who moved from arms and luggage to the Champalimaud Foundation, in the first decade of the century.
Joe Paton points to Facebook as an example of the potential of technologies as a factor in behavioral change. The neuroscientist recalls that most social networks use techniques that allow collecting data from people as they indicate what they like or not (with "likes"), in order to discover how to increase the time of use. "We want to use similar ingredients (as in Facebook and other technology platforms) in a way that promotes health, longevity and resilience," responds Joe Paton.
In addition to the success of the techniques used by social networks, there are also reports that show that laboratory mice showed a greater probability of recovering up to 100% of the lost capacities after a cerebrovascular accident (CVA) when, instead of a recovery in immobilized rest, embark on the resumption of activity, immediately after the occurrence.
Mitochondria, the "generators" of energy in human cells, figure in another of the examples given by the neuroscientist regarding the benefits of an active but non-stressful life. This cellular part is made up of 37 genes – and 19 react beneficially when humans exercise.
Paton recalls that the brain is crucial to generate a coordinated approach that takes into account not only physiological factors, but also social or psychological factors. That's why the new digital tools should try to positively stimulate the adoption of training plans, healthy diets or routines that reduce stress. The researcher admits that a 10% change in less healthy behaviors soon guarantees substantial health benefits for the population. "Drugs are essential, but that does not prevent us from studying ways to impact human biology in a coordinated way", he underlines.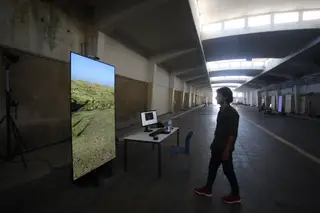 The researcher does not set dates for the launch of the new generation of tools that will be developed by the scientists of the Champalimaud Foundation, but he admits that the medical certification process is less demanding than for medical devices, since they only aim to promote experiences with patients. – provided there is sufficient data. Which is not always easy to guarantee, due to current technical and legal limitations. "We don't want to create a big brother; we want to encourage collaboration with doctors and patients," says Joe Paton.
From auction to laboratory
The first day of the rest of the life of the new line of investigation will be marked with the exhibition of works that resort to the capture of body movements and interaction with virtual reality scenarios, as well as games that provide movements or actions that may be advantageous for prevent or treat disease.
The works on display are the result of partnerships between scientists and artists and aim to bridge the gap between the technologies that, today, through TV, console or mobile phone, have contributed to a sedentary life, and a new approach that intends to use these technologies as an incentive to changing habits.
To open up a new field of research, the Champalimaud Foundation will begin the reformulation of the old auction house into a set of laboratories for the development of technologies that can be used to influence behavior, as well as areas specializing in clinical treatment.
The first three laboratory spaces are expected to be completed by the end of 2022 – but this will only be part of the planned redesign plan for the entire space that once belonged to Docapesca, and which now aims to unlock the human brain.