Munich, July 20, 2021 – Munich's top gastronomy is seething: three-star chef Jan Hartwig is leaving the studio, the Tantris is becoming the Maison Culinaire with two restaurants as well as a bar and celebrity chef Alfons Schuhbeck, according to his own statement, has filed for corona-related bankruptcy. An overview of a changing scene and an appeal.
In 2014 he was hired to bring the Atelier restaurant in the Bayrischer Hof up to date, so to speak. Jan Hartwig had done this job with flying colors at the latest in 2017, when the Michelin Guide awarded the restaurant three stars. Hartwig, who previously worked as Sous Chef in Sven Elverfeld's three-star Aqua in Wolfsburg, brought the highest Michelin award back to Munich. Finally, 23 long years after Eckart Witzigmann (aubergine) and Heinz Winkler (Tantris). This will end in the autumn, after all, according to Hartwig, he plans to finally put his long-cherished dream of independence into practice. At least – and that will please the Munich gourmets and the culinary interested tourists who visit the Bavarian capital – Hartwig stays in Munich for this. He still wants to take a creative break, after all, it is important to him "to prepare for the new professional future with a clear head and to find a suitable location. But I will definitely stay true to my philosophy and kitchen line ", as he announced yesterday Monday.
Bavarian trout with lentils, herbs, mushrooms and whey – a dish by Jan Hartwig, served in the Ikarus in Hangar-7 in honor of Eckart Witzigmann's 80th birthday
Corona victim Schuhbeck
The now known bankruptcy of TV chef and "Platzlhirsch" Alfons Schuhbeck also caused a tremor of medium strength. While there are plenty of theories and rumors in this regard regarding previous problems with the tax authorities and ongoing criminal tax proceedings, the corona crisis has now brought even his restaurants to their knees, according to Schuhbeck: "After the state aid that had been promised to me has not been received until today, I have to I file for bankruptcy for my operations, "said Schuhbeck in a written statement. Although his establishments (the Orlando restaurant and the South Tyrolean parlors) will remain open for the time being, a radical new beginning is inevitable. And so the culinary appearance on the Platzl in Munich's old town, home of Schuhbeck's troubled gastro empire, will soon change.
Tantris – The evolution of a restaurant legend
On the other hand, the Munich restaurant legend Tantris recently made positive headlines due to the new concept, after top chef Hans Haas announced his retirement here after 29 years – always with two Michelin stars. While Eckart Witzigmann revolutionized the restaurant landscape in Germany from here in the early 1970s and brought haute cuisine to Germany, Tantris is now in a sense reinventing itself in its 50th year. Very promising, after all, the menu restaurant Tantris, the new à la carte restaurant Tantris DNA and the Tantris Bar are to be combined under the roof of the listed building by Julius Dahinden in Schwabing. Matthias Hahn, who worked for Alain Ducasse in Paris for many years, becomes Executive Chef. He coordinates all outlets and their teams around the future chefs Benjamin Chmura (Restaurant Tantris) and Virginie Protat (Tantris DNA) in this new Maison Culinaire.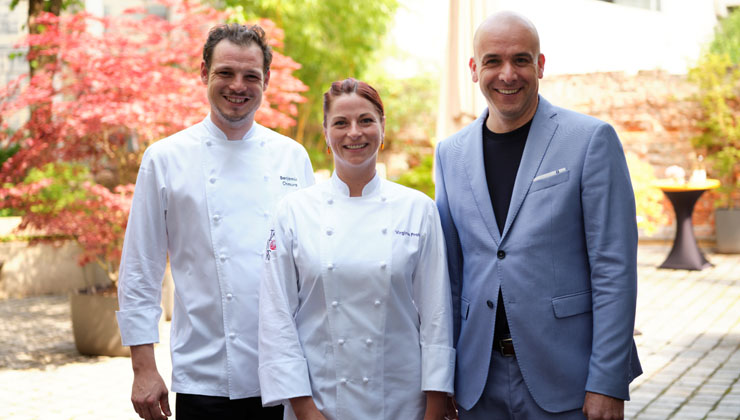 Benjamin Chmura, Virginie Protat and Matthias Hahn in front of the Tantris (from left)
Tohru Nakamura – With the Salon Rouge to new shores
Tohru Nakamura, who was named Chef of the Year by Gault Millau, had to leave Werneckhof by Geisel in Schwabing last year. Due to the pandemic, it was no longer possible to continue as before – even though everyone was talking about the restaurant thanks to Nakamura's award and "was already fully booked until the end of 2020", as Tohru Nakamura told us at the Rheingau Gourmet and Wine Festival in February Still insured in 2020. Nakamura, who studied under Martin Fauster in the royal court – the star restaurant was also permanently closed due to the current renovation of the hotel of the same name on Karlsplatz – but has some hot irons in the fire. Last summer, for example, he opened his Salon Rouge pop-up restaurant in Munich's Stadtschreiberei until the new lockdown in November, and has since operated a street food snack bar from there to keep his team afloat.
Is in good spirits: Tohru Nakamura
In autumn 2021 Tohru Nakamura will return to Munich's old town with the "Schreiberei". This time permanently and certainly with ambitions in terms of Michelin stars. The listed town registry is currently being extensively renovated and rebuilt in order to be able to provide the appropriate framework for the two culinary concepts planned there – brasserie below, fine dining above. Until then, Nakamura is hiring out again in a pop-up version of the Salon Rouge in Munich's Werksviertel, is currently visiting colleagues on Sylt and Ibiza on a culinary tour called "Tohru on Tour" and serving dishes for the birthday menu in honor of Eckart Witzigmann in the Salzburg Gourmet- Restaurant Ikarus, where Jan Hartwig, Martin Fauster and Matthias Hahn also met other current and former protagonists of Munich's top gastronomy for the 80th anniversary of the chef of the century.
The culinary carousel keeps turning
And so it comes full circle and Munich's culinary carousel continues to turn. Just like back then, when the "revolutionary" Witzigmann was looked at while shopping at the Viktualienmarkt. Some of the shop assistants considered the later three-star chef – the first ever outside of France – to be a "crazy man" who cooked with the inedible herb tarragon: "In the 1970s I picked wild garlic in the English Garden and one in Tantris Planted a herb garden because I couldn't get tarragon on the market – that was actually considered "poisonous" back then, "said the" Cook of Kings and Gods "(New York Times) a few years ago in an interview with newfoodcity.de.
"Where is the culinary journey going?" – Eckart Witzigmann also seems to be wondering
Now there is another jolt through the culinary landscape of Munich. So it remains exciting and the current developments in Munich's restaurant scene are both an opportunity and a challenge, despite and because of the Corona crisis. With a breath of fresh air, the Tantris wants to assert its culinary influences in the next 50 years, the comparatively young top chefs Jan Hartwig and Tohru Nakamura have a great future due to their hard work and talent, and Alfons Schuhbeck also believes that they will ultimately get back on their feet . But he fears that it will hit his 50 employees harder. But that's not really surprising, after all, they have neither a spice trade, nor TV or Bayern Munich commitments to show, nor have they been able to conclude lucrative advertising deals with fast-food chains in the past.
Visit restaurants!
And precisely because this situation in Munich's top gastronomy and elsewhere is and can only be a snapshot and numerous, not mentioned top restaurants, but above all also lesser-known restaurants and their employees are hit even harder by the pandemic, the lockdowns and their consequences, we would like to address you At this point, if you will allow yourself, you should have your own opinion: Take care of your health and that of those around you, but go to eat again. Visit the small restaurants in your area. You can also visit those who, according to the Michelin Guide, are worth a stop, a detour or even a trip – according to the categorization of the restaurant guide from one to three Michelin stars – and enjoy the culinary togetherness. Incidentally, everything is much easier when you are vaccinated.
.