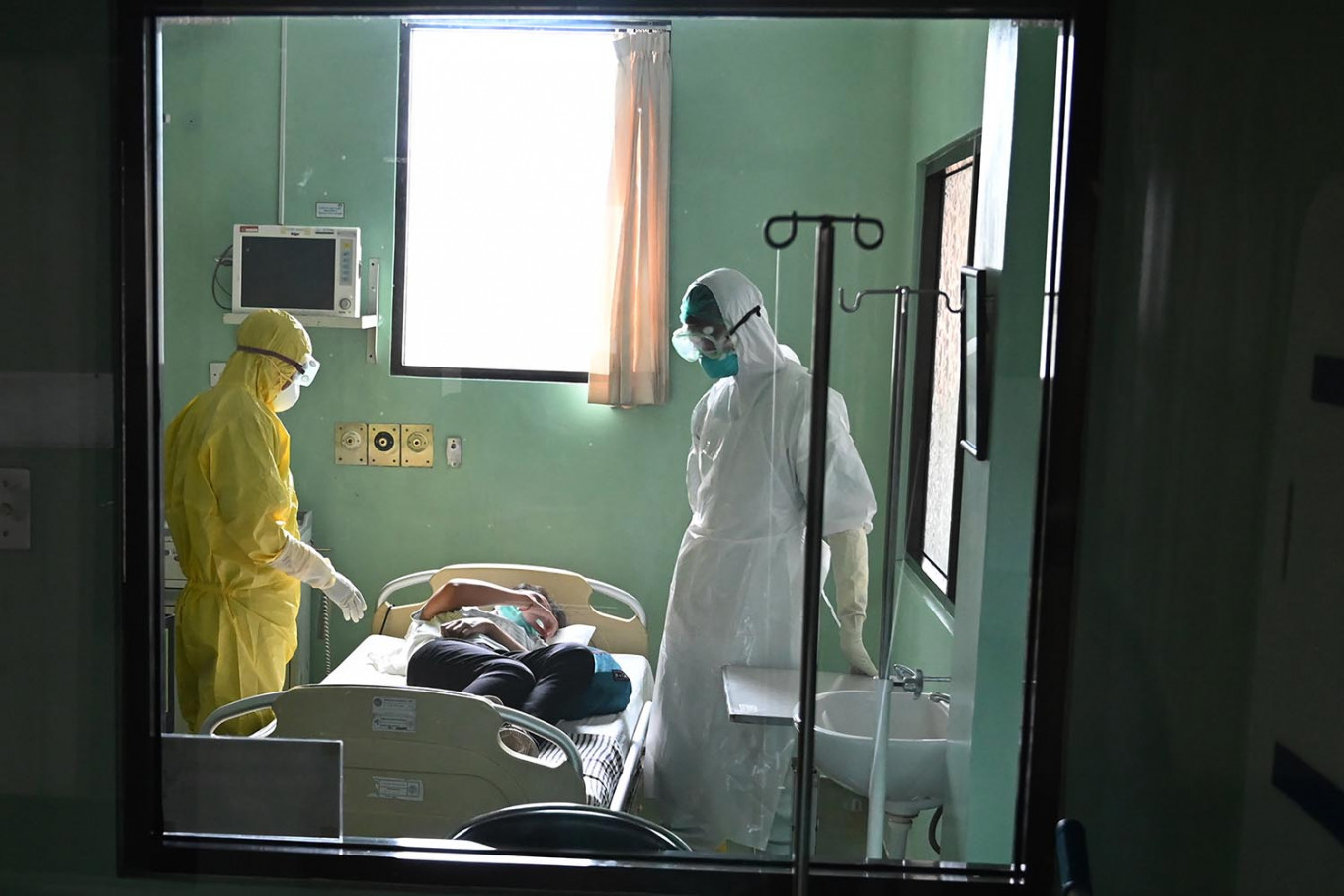 A male patient suspected of COVID-19 died on February 23 at the Kariadi Central General Hospital in Semarang, Central Java, after being treated in an isolation ward for almost a week.
The patient reportedly returned to Indonesia on February 12 from Spain through Dubai, United Arab Emirates (UAE), and presented symptoms of the disease after his arrival, such as fever, cough and shortness of breath. He was admitted to the hospital on February 17 and transferred to an isolation ward two days later.
The medical and nursing director of Kariadi hospital, Agoes Oerip Poerwoko, confirmed that the patient died on Sunday, but said that SARS-CoV-2, the virus that causes COVID-19, was not the cause of the patient's death.
"The patient died not because of the coronavirus, but due to severe respiratory difficulties. The result of a laboratory test of the research and development center of the Ministry of Health came out a day after the patient was buried, and showed that he tested negative for the coronavirus, "said Agoes as quoted by kompas.com on Tuesday.
In addition to the recently deceased patient, Agoes said the hospital had also treated two other patients suspected of COVID-19 infection, an Indonesian and a Japanese who had traveled to other countries. Both patients had been discharged after negative for SARS-CoV-2.
Kariadi hospital has treated at least 23 patients for suspected coronavirus infection since January. Four of the patients were citizens of China, Japan and South Korea, all of whom have localized outbreaks.
Wuhan City in Hubei Province, China, is the epicenter of the COVID-19 outbreak that emerged in December 2019 and has affected 41 countries to date.
Also read: "It's not COVID-19": an Indonesian health official mixes diseases and viruses
"Of the 23 patients, 10 of them are patients under surveillance because [they] show clinical symptoms [of COVID-19], while the other 13 are under observation and have been allowed to go home, "said Agoes.
On the other hand, the head of medical services at the Kariadi hospital, Nurdopo Baskoro, said the hospital had just admitted a patient on Monday who was being treated in an isolation ward.
"[The patient] She is a 25-year-old woman who arrived at the hospital in the afternoon complaining of having a fever, cough and chills. She has been in close contact with foreigners from [South] Korea and China, but have no history of traveling abroad, "said Nurdopo.
As of February 25, more than 80,400 people worldwide have contracted the virus and more than 2,700 deaths have been linked to COVID-19.
Indonesia has reported zero confirmed cases to date, although at least nine Indonesian crew members aboard the Diamond princess Cruises in Japan have tested positive for COVID-19.
In addition, a Chinese citizen and a Japanese were diagnosed with the disease on their return from their vacation in Bali in the last two months, according to reports issued by the infectious disease centers in those countries. (syk)
.