Stefano Maiolica (28) will not vote on Sunday. Not because the young video maker doesn't feel like delving into party programs, or because he has lost his faith in politics (which he also is, more on that later), but because he lives too far away.
And he's not alone. Maiolica is the founder of Un Terrone a Milano, a community of young southern Italians who, like him, moved to Milan for work or study. Terrone is a northern Italian swear word for compatriots from the south, but Maiolica chose the term precisely as a nickname. 'I want to give the word a positive value,' he explains under the evening sun, on a bench near the Arch of Peace in Milan.
He does this successfully: the entrepreneur has more than 100 thousand followers on Instagram, for whom he makes nostalgic videos about missing the southern Italian coast and finds out where you can find the best southern delicacies in Milan.
Since 2019, Maiolica has also been organizing free bus trips south for the holidays, sponsored by companies. This year he hopes to bring five full buses, a total of about three hundred southern Italian young people, home to their mothers for Christmas dinner.
Fear of fraud

But first Maiolica deals with another problem facing southern Italians in Milan: the elections, and especially the fact that in Italy it is impossible to vote elsewhere than where you are registered. Authorizing someone or voting by post – as Italians living abroad are allowed to do – is also not allowed, for fear of fraud.
More than 70 percent of his followers said in a poll with thousands of responses, they would not travel back home to vote. Like him, they have never changed their registration, because they will lose a scholarship or discounts, or because they fear they will enter another circle of the Italian bureaucratic hell.
This is especially a problem around elections, because the distance between Milan and Maiolica's home city Salerno – he is registered with his parents – is more than 800 kilometers.
Voting therefore easily costs about twelve hours of trains (return) and more than a hundred euros, although the railways do give discounts around the elections. He himself also considered arranging a sponsored election bus to the south, but that turned out to be unfeasible, especially because many of his acquaintances simply do not have time for the trip.
According to a recent parliamentary report, 4.9 million Italians (nearly 10 percent of the electorate) live in a different place than their registration. Their age is unknown, but there is little doubt that a large proportion are young. More than half of them come from the south and 1.9 million people have to travel home for more than four hours.
It is one of many reasons that researchers expect low turnout among young people in Sunday's election. According to some predictions, less than half of Italians between the ages of 18 and 34 will vote. In a country with many more elderly people anyway: 10 million young voters (18-34 years old), against 27 million people over 50.
Fuorisede-stemmers

But the problem of the Offsite, as the young people living far from home are called, is not the only explanation for the low expected turnout. From a poll by business newspaper The sun 24 hours among 20 thousand young Italians, it appears that almost nine out of ten of them have 'little' (56 percent) or even 'none' (33 percent) confidence in politics. 90 percent answered in the negative to the question whether politicians have their concerns and problems in mind.
Look at the campaign, Maiolica says: parties often talk about pensions, but rarely about topics that concern young people, such as the climate or the very outdated school system. 'The elderly decide the elections.'
Will they vote? Students Marco Venturini (20) and Francesca Vicario (20) a little further away on a bench in Sempione Park, shrug their shoulders apologetically: he would like to but is on holiday, she is planning to but has no idea yet on which party.
A typical answer, according to research by opinion agency YouTrend. 'Young people focus more on issues', explains analyst Lorenzo Pregliasco. Climate, school, human rights. 'They are interested in political topics, but that doesn't translate to traditional parties.' Unlike older generations, they have little faith in politics as a tool to bring about change, Pregliasco said.
Makes sense, Stefano La Barbera (40) snorts on the phone from Palermo. 'Our politics can become a trivial problem if Offsite-votes don't even solve." Fourteen years ago, as a student at the technical university in Turin, he started getting worked up about it. Meanwhile, the consultant has long since returned to his beloved Sicily and this year he can vote, but with great pleasure he does not. Because the bill, which came about thanks in part to his activism and which makes remote voting possible, has still not been passed by parliament after all these years. 'A symptom of a malfunctioning democracy', says La Barbera.
According to La Barbera, there is no political motive behind it, but it is simply incompetence: the problem only comes back on the agenda when the elections are already in sight, and then it turns out to be too late to organize a good solution. 'If there was a party that votes a basin in the Offsite saw, it would have been resolved long ago.'
Life of hope

Stefano Maiolica thinks otherwise and believes that political interests are at play. 'Some parties don't benefit from this group voting', he sighs. The people who move from the south to the north are not a cross-section of the population, but on average more open-minded, he emphasizes. For example in the field of LGBTI acceptance and migration.
Indeed, it is mainly the left-wing parties that are politically committed to the problem, and now – for the umpteenth time – promise that it will really be solved in the next elections. A promise worth as little as much other campaign talk, Maiolica says. His confidence in politics is low, but he would vote anyway, if the logistics weren't so complicated.
In the past he chose protest parties that promised to change everything: Matteo Renzi, who called himself the 'man with the hammer', and the Five Star Movement, which wanted to tear down the entire political class.
And even though they denied all their principles afterwards, Maiolica would again cast such a protest vote this time. 'In Italy we live on hope', he explains. "And in elections, that's the hope of sending them all home."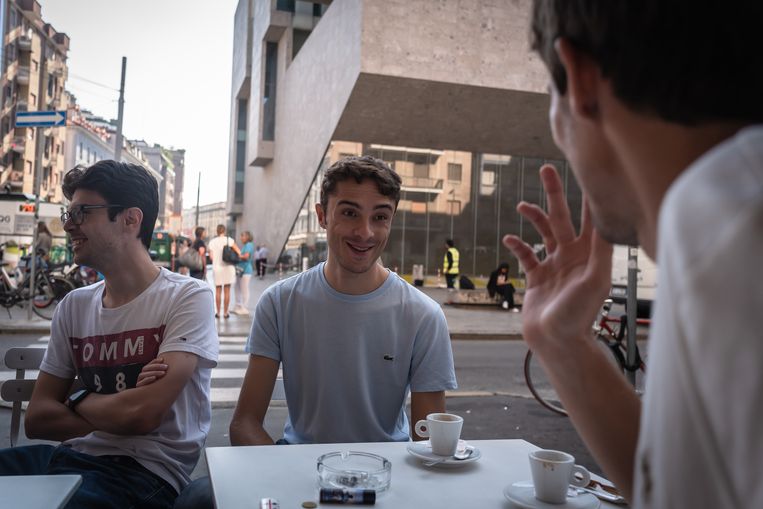 Alberto Binetti, Francesco Toti and Edoardo Scandolara (all three 23) study economics and business economics.
Toti: 'I vote for Terzo Polo of Matteo Renzi and Carlo Calenda. I think subjects such as climate and civil rights are important, but other things, such as the labor market, are the most important.'
Scandolara: 'I choose a left-wing party. I'm afraid there will be an even stronger anti-LGBTI climate if the right-wing bloc wins.'
Binetti: 'Probably I will not vote, because I am Offsite-student. I'm from Naples and have to work on Saturdays, so getting back and forth from Milan for one day is going to be a pain. I would like to, but it's a matter of lack of time and money.'
Toti: 'We young people hardly count. It doesn't pay for politicians to have problems like voting for Offsite-to solve students, because we are young people with relatively few.'
Binetti: 'I think the level of the campaign is very low. There are also almost no proposals that concern young people. And when politicians do propose something, it is often populist and unfeasible, such as the idea of ​​the Partito Democratico to give 10 thousand euros as a gift to every 18-year-old.'
Toti: 'There are also very few young candidates for election. The seats are already occupied by the elderly, as everywhere in this country.'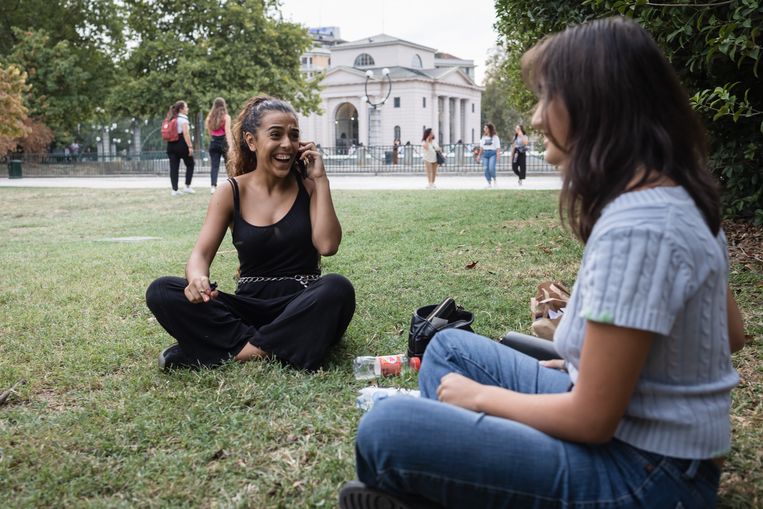 Beija Vezzali (19) and Isabelle Dalle Carbonare (18) study pharmacy and veterinary medicine
Vezzali: 'I vote for the Greens. I have little hope of them winning, but they have the most complete environmental and climate program. Almost all of my fellow students will vote as well, although they often don't know what for.'
Dalle Carbonare: 'My friends from the village where I come from are much less interested in politics than our fellow students here in Milan. And they vote more to the right, for example for the Lega. I myself have not followed the campaign. I can participate for the first time, but I have no idea who I'm going to vote for yet.'
Vezzali: 'I follow the campaign a bit. It is embarrassing that politicians such as Berlusconi are now suddenly on TikTok to get the votes of young people. An insult to our intelligence. They would be better off talking about topics that interest young people. Such as education, but also – it may sound banal – the referendum on cannabis legalization. Young people smoke weed, and enough signatures were collected for a referendum, but it didn't happen. It would show that we are moving with the times, but Italy is always behind.'