According to a study conducted by the CSA Institute for LinkedIn and ADEME, companies that have embarked on an ecological transition process are of greater interest to employees. Measures of digital sobriety and respect for the environment by companies are therefore strong adhesion factors.
Questions about the digital footprint on the environment, digital sobriety or even ecological transition processes are at the heart of the concerns. Companies have already understood that these components could constitute a factor of adhesion to their company. A study by the CSA Institute confirms the trend in favor of better inclusion of environmental criteria in companies.
This is why a large majority of employees surveyed (88%) believe that the ecological transition is an important subject. In fact, employees are more inclined to turn to companies that care about the environment. Or who take steps to reduce their consumption.
The essential role of employees
Arnaud Leroy, CEO of ADEME explains: "This study shows the extent to which companies and their employees have a role to play in the ecological transition. This is why ADEME supports companies of all sizes on a daily basis.. Se in the form of advice, financial incentives, sharing of good practices and feedback. The objective is to motivate as many people as possible to engage in the transformation of our economic models. "
In fact, the majority of respondents consider that their own company has already made progress in terms of ecological transition. More than half of them mention the implementation of more energy-efficient work spaces and methods. But also improvements in production methods. Finally, they demonstrate the desire to encourage the use of more ecological modes of transport. Last major component, many emphasize the holding of awareness-raising or training actions for employees. These would allow the emergence of good practices.
A need for training and education
Thus, the study reveals that 68% of employees wish to be trained in the challenges of ecological transition in their company. ADEME offers this type of training by addressing, for example, the ACT (assessing low carbon transition) approach. It also allows employees to be more aware of environmental issues. It is therefore truly a win-win process. The report shows that 78% of employees would choose (with equivalent offers) to go and work for an organization committed to the ecological transition.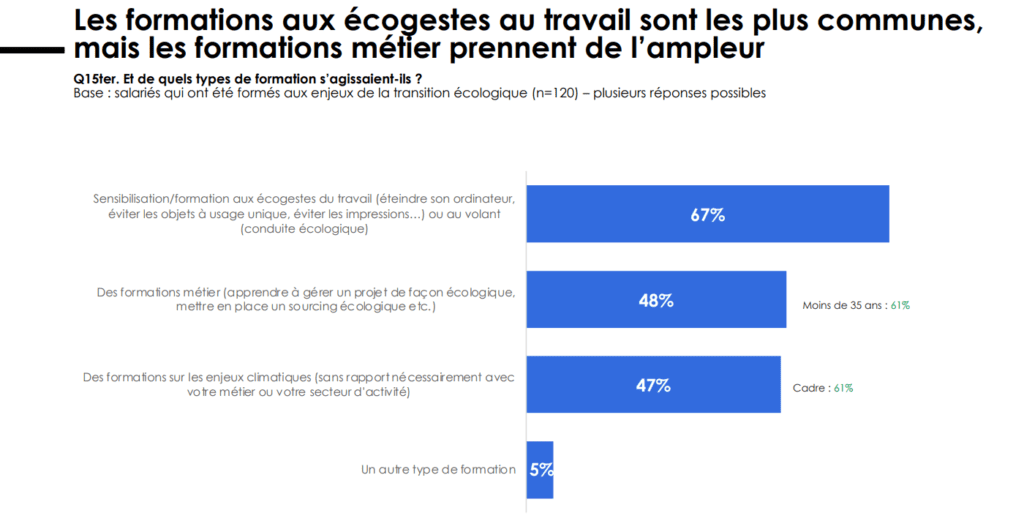 Work therefore still needs to be done in this area. Only 17% of respondents specify that their company offers training on issues relating to ecological transition. Almost two-thirds of employees therefore say they are in favor of training in the challenges of ecological transition.