In Brazil, thousands of families occupy empty buildings in Sao Paulo. "Terrorists" in the eyes of the president.
Subscribers article
When speaking of her "country", the state of Goias, in central Brazil, pierces in her voice the bitterness of the exiles. Ester Eusebio Barboza da Silva, was not 20 when she landed in Sao Paulo, the megalopolis of concrete with the reputation of economic eldorado. Sure, at the time, that prosperity would be the reward of his efforts. Aged 48, mother of three children including a 6-year-old boy, here she is, at the beginning of February, residing with her husband Roberto in a dark and deciduous two-room apartment, lit by neon light, in the abandoned building called " 9 de Julho ", in the center of the city.
"Refugee in her own country", she explains, Ester lives an "ocupaçao" (occupation), it is said in Brazil. A "squat", it is said, that the family joined a few months ago for lack of being able to pay a rent of 1,250 reais (290 euros) since the dismissal of Roberto, truck driver. By caring for elderly people in the upscale neighborhoods of Morumbi, Ester earns 1,500 reais per month (350 euros). A little more than the minimum wage in Brazil (998 reais). "And I have a university degree," She says.
"Who does not fight, dies"
At the entrance of the building, owned by the National Institute of Social Security (INSS), empty since the late 1990s, squatted for the first time in 1997, spreads a tag: "Who does not fight, dies. " A little further in a community lounge, two figures on a refrigerator recall the stakes of the battle: more than 600,000 homes are unoccupied in Sao Paulo and more than 396,000 families are homeless.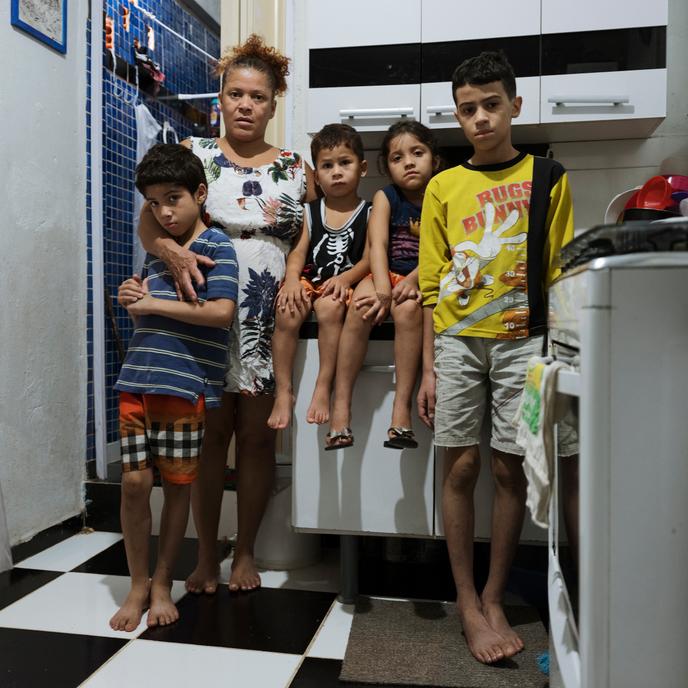 A true vertical favela of fourteen floors, without elevator, a hundred families like those of Ester occupy the building of concrete. Here, everyone has a life of odds and ends, arranging the best apartments, repairing over the years the pipes, installing water, electricity, organizing cultural events.
For the security of the whole, architects were even mandated by Carmen Silva, 58, at the head of the movement of Workers Without Roof Center (CSTM), emanation of the National Movement of Workers without roof (MTST).
"Terrorists" in the eyes of President Bolsonaro
Trained by left-wing activists, the MTST as the CSTM invade abandoned buildings by public authorities, private companies, and sometimes wealthy individuals, to claim, in vain, for nearly forty years, the establishment of a policy social housing.