29 september 2020
11u26
Source: Le Monde, Le Parisien, Welt, Der Spiegel, AFP
Just like the Netherlands, France has also tightened its corona measures to halt the rise in corona figures. In eleven major cities, including Paris and Lille, cafés have been closed at 10 p.m. since last night and there is a ban on major events. In Germany there will also be stricter measures, the German news agency DPA was informed.
Your cookie settings ensure that this content is not displayed.
Adjust your cookie settings On.
France reported more than 10,000 new confirmed cases every day last week, peaking at nearly 16,000 on Friday. On Monday the figure fell to 4,070, but it is suspected that the weekend effect is at play there. In total, 542,639 people have already been infected.
With more than 200 confirmed infections per 100,000 inhabitants in the last fourteen days, France – just like Belgium by the way – is colored red on the corona map of the European Center for Disease Prevention and Control (ECDC). Especially in Paris, the health system is under severe pressure.
According to the most recent figures, 162 people were hospitalized throughout France in 24 hours, 46 in the intensive care unit. 81 patients succumbed to the effects of Covid-19, bringing the total number of deaths to 31,808.

The French government is currently investigating 1,246 corona clusters and 60 of the more than 100 French departments are now in an 'increased state of vulnerability'. Last week, the government announced tougher measures in eleven major cities where the virus is widely circulating, and all have now come into effect. These are Paris, Lille, Toulouse, Saint-Etienne, Rennes, Rouen, Grenoble, Montpellier, Bordeaux, Lyon and Nice.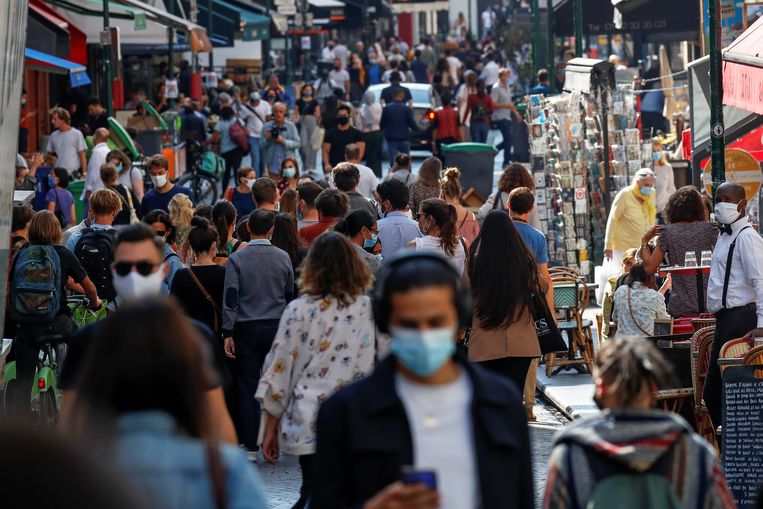 Since Monday, bars have to close at 10 pm and party halls are not even allowed to open at all. This weekend, the attendance at large gatherings had already been reduced to 1,000 and a ban on major events, such as local festivals and student parties, came into effect. Sports halls and fitness centers had to be closed and it is no longer allowed to gather with more than 10 people in public places.
In Germany the situation is not yet as dire as in France, but the government has no intention of letting it go that far. Chancellor Angela Merkel's spokesman called the evolution of the epidemic in Germany "very worrying". Steffen Seibert called on everyone to continue to follow the rules regarding mouth masks, quarantine and basic hygiene and to use the corona app "so that we can save our land some measures in the autumn and winter".
In Germany, 2,089 new infections were reported in the past 24 hours, according to figures from the Robert Koch Institute (RKI). The total number of infections thus comes to 287,421. Over the past seven days, there was an incidence of 14 confirmed infections per 100,000 inhabitants, which is a lot lower than in France and in our country (where the incidence on Tuesday was 178 infections per 100,000 inhabitants, but over a period of 14 days). ). A total of 11 people died from Covid-19 in the past 24 hours, bringing the number of deaths to 9,471.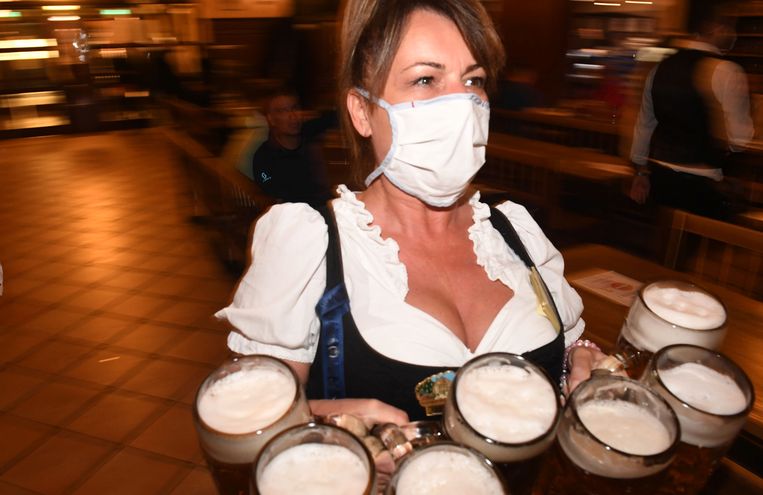 Merkel today sat with representatives of the sixteen state governments. During that consultation, stricter corona measures were worked out, reports the German news agency DPA. For example, the number of people allowed to attend a party in a public space or rented hall will be reduced to 50. The restriction applies when the number of new infections rises to more than 35 per 100,000 inhabitants in a given area and does not apply to private property. However, there is a recommendation to limit parties in private homes to 25 people.
Further measures will be imposed in any area where new infections exceed 50 per 100,000 inhabitants. There, the limit for public or rented spaces is lowered to 25 people and the recommendation for private homes is lowered to 10.
Second lockdown must be prevented at all costs

Chancellor Angela Merkel
There will be exceptions for events that are pre-registered and that use hygiene plans approved by public health authorities.
Chancellor Merkel emphasized that she does not want to lock the country a second time: "That must be prevented at all costs". There is therefore no loosening of other corona measures. However, there will be a fine of 50 euros for people who falsify their personal data when they register when visiting a restaurant. That registration is mandatory. In the event of an infection, those involved can then be informed more easily.
---
.