The camps of the islands of Lesbos, Samos and Chios will be replaced by structures with greater capacity but which, closed, will lock the migrants during the procedure.
Athens announced on Wednesday, November 20, the forthcoming closure of the three largest migrant camps in the Aegean islands of Lesbos, Samos and Chios, and their replacement by closed structures tripled the capacity, which will however remain well below the needs.
The three overcrowded camps of Lesbos, Samos and Chios, which currently shelter more than 27,000 migrants with a total capacity of 4,500, will be closed on a date that has not been specified. To replace them, closed structures of 5,000 places each, with a total of 15,000 seats, will be erected in these three islands close to Turkey, said the government's special coordinator for migration, Alkiviadis Stefanis.
Read our report:
Lesbos, a European failure
Instead of being allowed to come and go freely on the islands, asylum seekers will be locked inside the new camps to identify them, study their status and decide on their relocation or return. in Turkey, he added. The other two camps of Kos and Leros, whose conditions are less dramatic, will be renovated and expanded.
10,000 arrivals per month
The Greek government of Kyriakos Mitsotakis has begun to transfer hundreds of asylum seekers from the Aegean islands to the mainland, with the goal of relocating 20,000 by the end of 2019. But the discontent is mounting among continent. And hundreds of exiles continue to flock daily.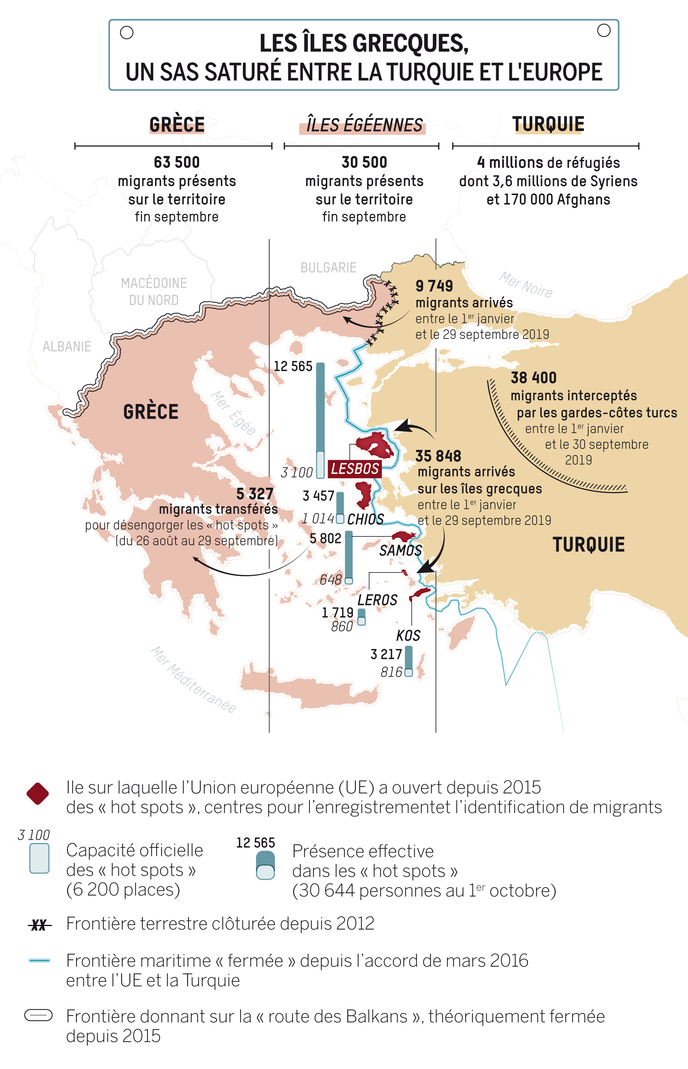 Read our maps:
Lesbos, European migratory node
The Ministry of Civil Protection announced that 40,000 people had arrived in Greece in the last four months. More than 1,350 people arrived on the five islands of the Aegean last weekend, according to the Greek coastguard.
Greek Prime Minister Kyriakos Mitsotakis accused the European Union of considering Greece and other countries of entry into Europe as "Convenient car parks for refugees and migrants". The EU "Ignore the problem" of the upsurge of migrant arrivals in Greece, he lashed out, in an interview with the German newspaper Handelsblatt. "It can not go on like this. "
Article reserved for our subscribers

Read also
In Greece, tougher asylum laws worry NGOs
More than 32,000 people currently live in miserable conditions in the five hot spots of Lesbos, Samos, Leros, Chios and Kos (camps where their recordings are made), for a theoretical capacity of only 6,200.