Marek Krukowski comes from Rakowiec in the Kwidzyn commune. He gained recognition thanks to multiple participation in game shows. It was not entertainment for him, but a way to support his family
Krukowski took part in nearly 70 tournaments. Most of his performances ended in victory. He won the "Big Game" 15 times out of 25 starts
As a multiple winner, at one point he could no longer take part in most game shows. So he started working as a librarian
In 2020, Krukowski appeared in the then-re-launched "Va banque" program. Later, for the first time in his career, he appeared in "Millionaires"
More information can be found on the Onet homepage
Even as a child, he had a brilliant mind. In high school, he won several subject olympics, thanks to which he took his high school diploma in only one subject — of the other three he was released. His father persuaded him to participate in the first game show. Only 14-year-old Marek Krukowski, although he passed the qualifying rounds for the "Great Game", was not admitted to the finals due to his too young age. Ten years later, in 1988, — on the same game show — won his first 200,000 old zlotys, answering questions about the work of Felix Mendelssohn-Bartholdy.
"That's how it started more or less, and when I won the first time, it was impossible not to go to the next qualifying round and so on for a few good years" — he recalled years later in an interview with journalists from "Puls Kwidzyn".
In the 1980s, he graduated in philosophy and studied Polish at the University of Warsaw for a year. Years later, however, he admitted that even if he had managed to finish it, he would not have had much of it. Lack of patience with children would effectively prevent him from teaching Polish at school. "Just as I can't imagine myself as an academic lecturer" — he explained.
He also admitted that he tried to work full-time as a copywriter, but it was not for him. It was taking too much time for him to learn and prepare for his next performances. He summed up his participation in the game shows with the words: "That money was on TV, I just didn't bend down".
Marek Krukowski took part in most of the Polish game shows. In the late 90s and early 2000s He appeared in a total of over 60 tournaments, of which he managed to leave the studio as a winner 50 times.
"Wielka Gra" game show, 2005 – Jan Bogacz / TVP / East News / East News
For 25 starts in "Great Game"he won 15 times. Similarly with"A billion in understanding"who lost only twice out of 18 attempts. In the program broadcast in 1996-2003"go bank"he only appeared in nine games — won every time. Marek Krukowski took part, inter alia, in program "One of ten", "Advent for money", "The weakest link", "A letter of magic", "Telegrze" i "Quick money".
At one point, however, the "king of winners" exhausted all possibilities. This is because most programs of this type do not accept multiple winners. Especially for him in 2005, however, was created led by Olaf Lubaszenko program "The best of the best"to which multiple winners of other game shows have been invited.
Its creator, while driving a car, heard on the radio the moaning of one of his many participants that they no longer wanted to welcome people like him. He thought a special game show for veterans could be made. This is how "The Best of the Best" was created. That whining participant on the radio was me
— admitted Krukowski in an interview with Anna Skrobiszewska.
This program had only two editions. The first one was won by none other than Marek Krukowski. The second was Andrzej Dudek. The prize for the winner of the final stage was 100,000. zloty — Krukowski's highest single win — and the title of "Best of the Best". In the Superfinals broadcast in November 2005, the winners of the first and second editions of the game show joined an additional game. The winner was Marek Krukowski again.
When asked how he was preparing for game shows, he replied that a few weeks before he tried to please himself, he avoided getting nervous and getting involved in life matters. He also recommended chanting mantras, prayer or meditation. Especially right before the game. On the other hand "not to think that it is good or bad during the game. Two attitudes lead to inevitable defeat: fear that you have already lost and believe that you have already won" — he explained in an interview with Anna Skrobiszewska.
In one of the episodes of the 1996 program On Every Topic, Krukowski also admitted that he often uses hallucinogens when preparing for the programs. "because he hears better". When asked by the lecturer whether in his opinion"cigarettes worse than grass?"replied:"yes i am convinced of it".
Kurkowski also believes that no extraordinary wisdom is needed to play game shows. "This is a simple knowledge of the facts, far from really understanding what is happening, because there is no way to ask about it" — explained in a document created by Telewizja Polska in 2002 entitled "Professional".
"Dad has to win so much or we will starve" — said in a sweet, childish voice one of Marek Krukowski's three sons in the documentary "Professional". Marek Krukowski lived his family of five only with money won in game shows. He also devoted a large part of them to expanding his collection of books and vinyl records.
The wife repeatedly emphasized in the document that she wanted her husband to find a job and give up his atypical and often problematic lifestyle. "The family needs something like a salary every month" — she admitted directly. Then their life was about waiting "will win, not win, and the next game in six months".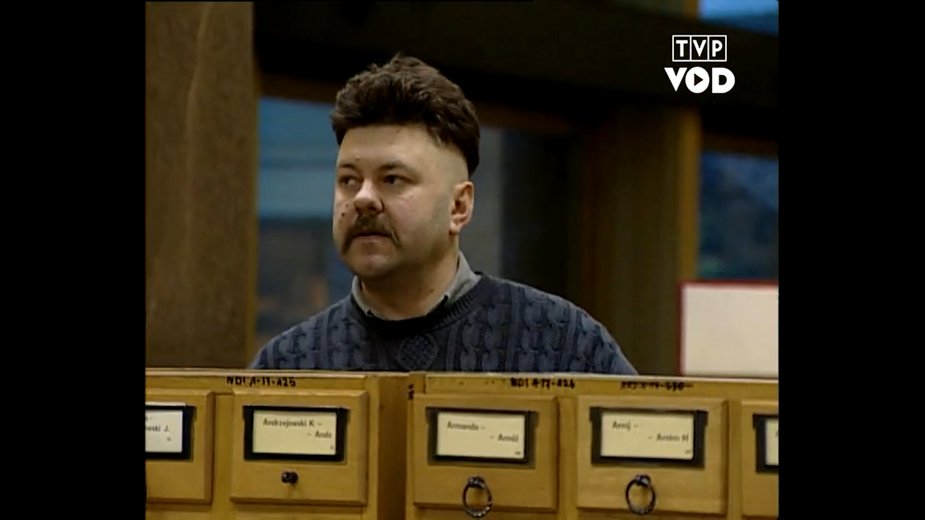 Marek Krukowski talking about problems with game show experts in the documentary entitled "Professional". – screen vod.tvp.pl
Krukowski himself also emphasized that although it is only fun for experts, he "it is about life"He mostly blamed television and experts for his losses during that period. He also admitted that he was counting on the station's way of not discouraging him from participating in more game shows. After that, he played regularly for only a few more years.
In the end, Marek Krukowski decided to start working "full-time" and donated the collection of books to the library located in his home commune. Krukowski arranged his 6,400 books according to the author's birthdays. Therefore, while looking for a new job for himself, he stated that someone had to properly catalog the books given to the library in Kwidzyn.
It is not easy, because the earnings are not stunning, but I have a feeling that I have to make sure that this collection is in the condition in which it was created, because its value is in its order.
— admitted in 2014 in an interview with journalists from "Puls Kwidzyn".
Krukowski also donated four thousand vinyl records to the library in Kwidzyn.
In 2020, Marek Krukowski – a librarian from Kwidzyn – appeared in the program that was resumed at that time "go bank"Krukowski appeared in seven episodes of the game show, six of which ended with his victory.
In 2021, it also appeared in the program for the first time.Millionaires"This time, however, the" king of winners "failed to deal with the question for PLN 10,000.
Sources: pulskwidzyna.pl, kwidzyn.naszemiasto.pl, Wygrywacze.blogspot.com, youtube.com, vod.tvp.pl, milionerzy.tvn.pl
(asr)