This document was central to the decision to re-authorize the herbicide in Europe in 2017.
Subscribers article
The glyphosate assessment report, the cornerstone of the European decision, taken at the end of 2017, to re-authorize the famous herbicide for five years, is a vast plagiarism.
Mandated by the European Union to produce the preliminary glyphosate expertise – more than 4,000 pages – the German Federal Institute for Risk Assessment (Bundesinstitut für Risikobewertung, or BfR) copied, often word for word, the Glyphosate registration dossier sent to the European authorities by Monsanto and its industrial allies, gathered within the Glyphosate Task Force (GTF).
In a report commissioned by MEPs and released Tuesday (January 15th), the famous Austrian plagiarism hunter Stefan Weber and the biochemist Helmut Burtscher, associated with the NGO Global 2000, show that the key chapters of the scientific evaluation by BfR are the result of more than 50% plagiarism, and more than 70% copied and glued. According to the two researchers – whose work was reviewed by two specialists in scientific plagiarism before being made public – "It is clear that the adoption by BfR, without critical recession, of biased, incorrect or incomplete information provided by the manufacturers [de glyphosate] influenced the very basis of his assessment " of the dangerousness of the controversial product.
However, it is on the basis of this preliminary assessment that the European Food Safety Authority (EFSA) and the experts from the Member States have concluded that glyphosate does not pose a carcinogenic hazard, thus paving the way for its re-authorization. Europe. In March 2015, the International Agency for Research on Cancer (IARC) concluded that glyphosate was "probably carcinogenic".
In September 2017, Global 2000 had already revealed that three sub-chapters of the BfR report had been largely copied and pasted. But the passages examined were limited to only 2.5% of the total report. Mandated by MEPs Anja Hazekamp (European United Left), Maria Noichl (Socialists and Democrats) and Bart Staes (Greens), MM. Weber and Burtscher have this time conducted a comprehensive analysis of the report's sections related to the chronic toxicity and carcinogenicity of the herbicide – more than a thousand pages.
Read also
Dangerousness, toxicity, utility: the debate on glyphosate summary under discussion for / against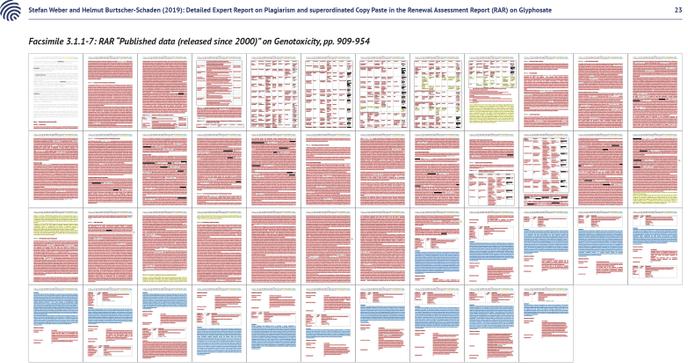 "A false idea of ​​the author"
They further distinguished "Benign copy-pasted" – identical reproduction of abstracts of studies or tables – passages constituting plagiarisms. Plagiarism, explain the authors, is "A fraudulent practice almost always intended to deceive the reader". " It means that (…) the reader has a false idea of ​​the identity of the author, write the two plagiarism hunters. The reader falsely assigns sentences, wordings, data, statistics, synopses, etc., to a named or supposed author, whereas in reality the elements he reads have been collected, organized and written by another author. "