If you're looking for a creative laptop that doesn't require a five-digit budget and still offers a combination of portability, performance, unique features and a beautiful screen, look no further. ASUS Vivobook Pro 14X OLED is exactly what you need.
A creative laptop is a special task laptop, don't cheat yourself. There are completely different requirements for such equipment than for computers for office work or watching Netflix on the couch. Unfortunately, it usually happens that if a laptop meets all the requirements – it is efficient, nice, mobile, and has a great screen – it costs a fortune. With its new model, ASUS proves that it does not have to be that way. I had a few weeks to see how huge possibilities lie in this small housing.
The world's first case with a wavy structure coating

Photo: Noizz.pl

ASUS Vivobook Pro 14X OLED amazed me at first sight

Every creative creator appreciates not only its power, but also aesthetics in the work tool. And here the new Vivobook Pro 14X OLED really impressed me. Right out of the box, you will notice the world's first housing with a corrugated structure with the manufacturer's logo and a stylistic accent.
Similar stylistic accents can also be found after opening the flap – this is not another sea of ​​gray that we know from most laptops. Everywhere you can see thoughtful details; And these are the perforations on the Enter key, and the inscriptions above the row of function keys, the ESC button with a distinctive color … ASUS made sure that the desktop encouraged to work.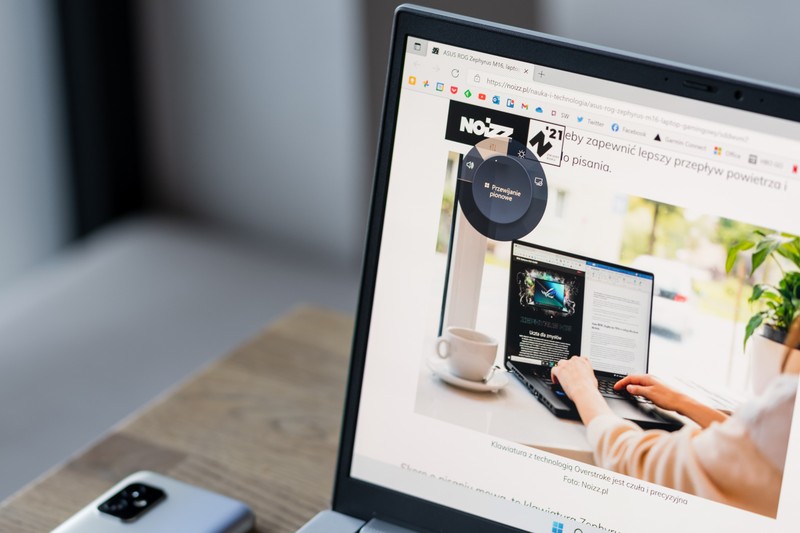 Vivobook Pro 14X OLED will provide excellent color reproduction, reducing eye fatigue to a minimum

Photo: Noizz.pl

However, the greatest admiration awaited me after looking above the comfortable keyboard. There is a 14-inch display with a resolution of 2880 x 1800 px. Such a high resolution in a laptop from this price range is impressive in itself, but in addition we are dealing here with a screen made in OLED technology, which most people still associate with high-end televisions, where it provides "true black", high contrast and sensational sensations visual. In laptops, the OLED screen offers other advantages – faithful color reproduction and 100% coverage. DCI-P3 color space, very good viewing angles, infinite contrast and very low emission of harmful blue light. Translating it all into human language – on this laptop you can work on any type of content, from photos to 3D graphics, and Vivobook Pro 14X OLED will provide excellent color reproduction, reducing our eye fatigue to a minimum. As a person who works with photos and videos on a daily basis, I greatly appreciated these possibilities, because regardless of whether I processed photos in Adobe Lightroom or edited videos in DaVinci Resolve, I could always count on the fact that the OLED screen in the tested laptop shows me the colors as what they should be.
As if that were not enough, the screen is refreshed at 90 Hz, not 60 Hz, as most computers in this class. This means that everything we do on it looks a lot smoother than on competing laptops. I really appreciated this aspect also in entertainment after work … but more on that in a moment.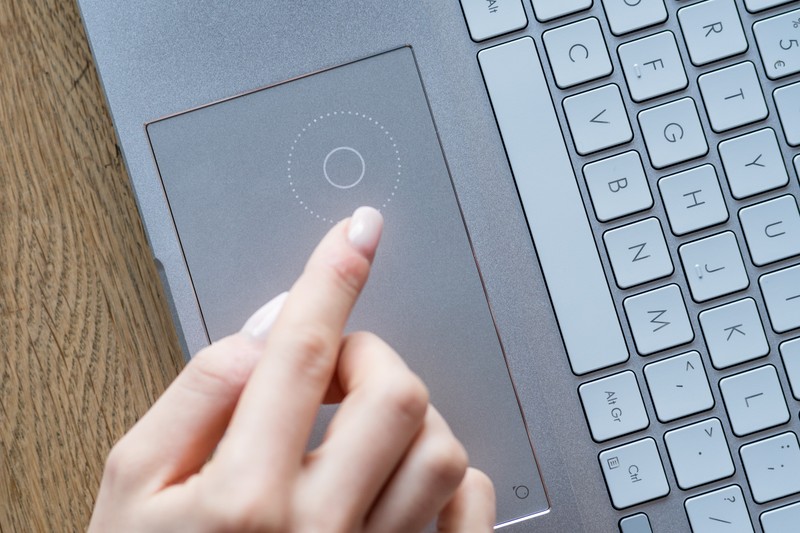 ASUS Virtual DialPad

Photo: Noizz.pl

Features you won't find anywhere else

ASUS Vivobook Pro 14X OLED from start to finish is designed with creativity in mind. You can see it at every step, starting from the aforementioned screen, through the use of a wide range of connectors to connect all the necessary accessories, to the keyboard, which is not only aesthetically interesting, but also extremely comfortable – it will be pleasant to tap on both e-mails and movie script.
However, this is not the end of the facilities for the creators, because ASUS has implemented two solutions that have so far been available only in the most expensive computers from the ProArt series.
The first of them is ProArt Creator Hub, i.e. software that allows us full control over the laptop. There you will find the possibility to change the device parameters and work profile, depending on the needs, an overview of technical parameters, as well as an in-built tool for display color calibration. These are extremely useful tools, allowing for example to extend the working time of a laptop when we do not need full performance or to increase performance when we need to work fast, e.g. when rendering video.
The second solution is extremely interesting: it's the virtual ASUS DialPad. A similar solution in physical form is available in the top StudioBook model. VivoBook Pro 14X OLED offers them in the form of a dedicated area on the touchpad.
Just swipe from the top-right corner and a digital dial appears on the left side of the trackpad. How it works depends on what we are currently doing. It is enough to touch the inner circle to display the selection menu on the screen, and then with a gentle movement of the finger along the outer circle, we can change various parameters, e.g. screen brightness or volume level.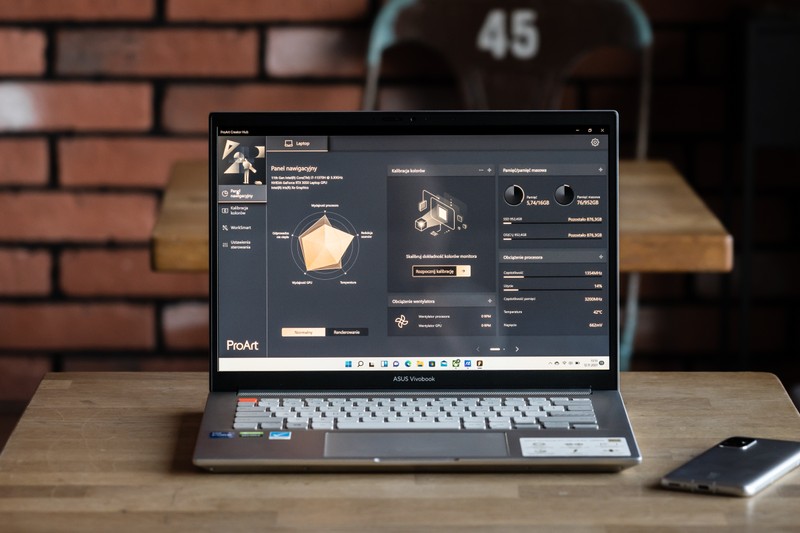 ProArt Creator Hub

Photo: Noizz.pl

The use of ASUS DialPad is, moreover, very wide and fully customizable. Inside the ProArt Creator Hub application, we can choose what specific options are to be available depending on the program used. In this way, for example, you can change the size of the brush in Photoshop or manipulate the paths in a video editing program. ASUS is also working with app developers, so expect that the number of actions that can be performed with the digital dial will only increase. Already, however, it is not a gimmick, but a very useful accessory that facilitates everyday work. I used it every day and after completing the tests I catch myself trying to make similar gestures on a private laptop, but unfortunately – such features like DialPad can be found only in ASUS laptops.
ASUS Vivobook Pro 14X OLED for special tasks

Photo: Noizz.pl

Made to create

However, all the additional functions and a beautiful screen would be for nothing if ASUS Vivobook Pro 14X OLED could not cope with the challenges that creative work poses to the creator and the laptop itself. Fortunately, there will be no shortage of performance here, because ASUS used the most powerful components that could be contained in such a slim, elegant housing. The heart of the laptop are Intel Core 11th gen processors from the efficient H series, and in graphic applications it is supported by the Nvidia GeForce RTX 3050 card. For this we have 16 GB of RAM and even 1 TB of fast SSD disk. You can not only work creatively on such equipment, but also play all new games that we find, for example, in the Xbox GamePass PC, which I had the pleasure to check myself, traversing the roads and wilderness of Mexico in the new Forza Horizon 5. Decent graphics performance and 90 screen Hz really takes entertainment to the next level.
And it must be added that all this is enclosed in a housing weighing only 1.45 kg and measuring 1.79 cm thick. You can always have this equipment with you, and thanks to its excellent energy management for less demanding tasks, it can be powered up to 10 hours away from the outlet.
ASUS also took care of the privacy of the creators who will use the Vivobook Pro 14X OLED. We log in to the system using a fingerprint reader hidden in the start button, and the webcam is equipped with a physical plug that can be used to cover the lens to protect against cybercriminals' temptations.
ASUS Vivobook Pro 14X OLED also comes pre-loaded with the stable and secure Windows 10 Pro version. A free upgrade to Windows 11 is also possible.
If you are looking for a computer that will keep pace with your creativity, and at the same time will be pleasing to the eye with its appearance and impress with its possibilities – look no further. ASUS Vivobook Pro 14X OLED is a machine made for your creative needs. He satisfied mine with a vengeance.