The wall survived, but showed significant cracks. Italy beat Austria with great difficulty. After 90 minutes, the underdogs had the best chances, but failed to score. Chiesa and Pessina showed no mercy in overtime. Kalajdzic was (finally) able to floor Donnarumma. If Belgium will soon beat Portugal, Italy will wait.
Italy – Austria in a nutshell

Key moment: Halfway through the second half, Arnautovic gives his country a short-lived delirium. His 0-1 is disallowed and a mediocre Italy escapes a potentially deadly deficit.
Man of the Match: The Austrian collective played a fantastic game against a team of superior quality on paper. That was not rewarded, but they go home with their heads held high.
Striking (1): The Italians are setting their own world record sharper. In the 1970s, Dino Zoff remained without a goal for 1142 minutes, Donnarumma and co only had to give in after 1168 minutes tonight.
Striking (2): It was only the first time in nine attempts that Italy managed to score in extra time at the European Championship. In addition, all goals (including those of Austria) were scored by substitutes.
Striking (3): Like father Like Son. A quarter of a century after dad Enrico, Federico Chiesa also scored a goal at a European Championship. Enrico did do that in a lost group match, so my son has an advantage.
Summary of Italy – Austria (2-1):

Italians can't get out of first gear

Due to the absence of Chiellini and the return of Verratti, Italian national coach Mancini had some decisions to make. He put Acerbi on the defensive and chose Verratti over Locatelli in midfield. Against the stiff playing Austria, which had not been able to beat the Squadra for more than sixty years, it wouldn't matter much anyway.
But we hardly got to see anything of the fresh Italian football in the group stage. An aggressive Austria chased every ball fiercely and aborted every attempt at attack. Gradually, the Italians were able to translate their dominance in the field into an opportunity. After another run from Spinazzola, Barella pulled out in a controlled manner and had to save Bachmann with a leg sweep. A little later, a sudden bang from Immobile stranded on the stake.
Austria, with all its enthusiasm, did not come up with many full-scale attacks. Arnautovic sometimes ran after a deep ball to ram high over it, but that was all. Das Team did manage to neutralize the Italians completely in the last fifteen minutes before half time.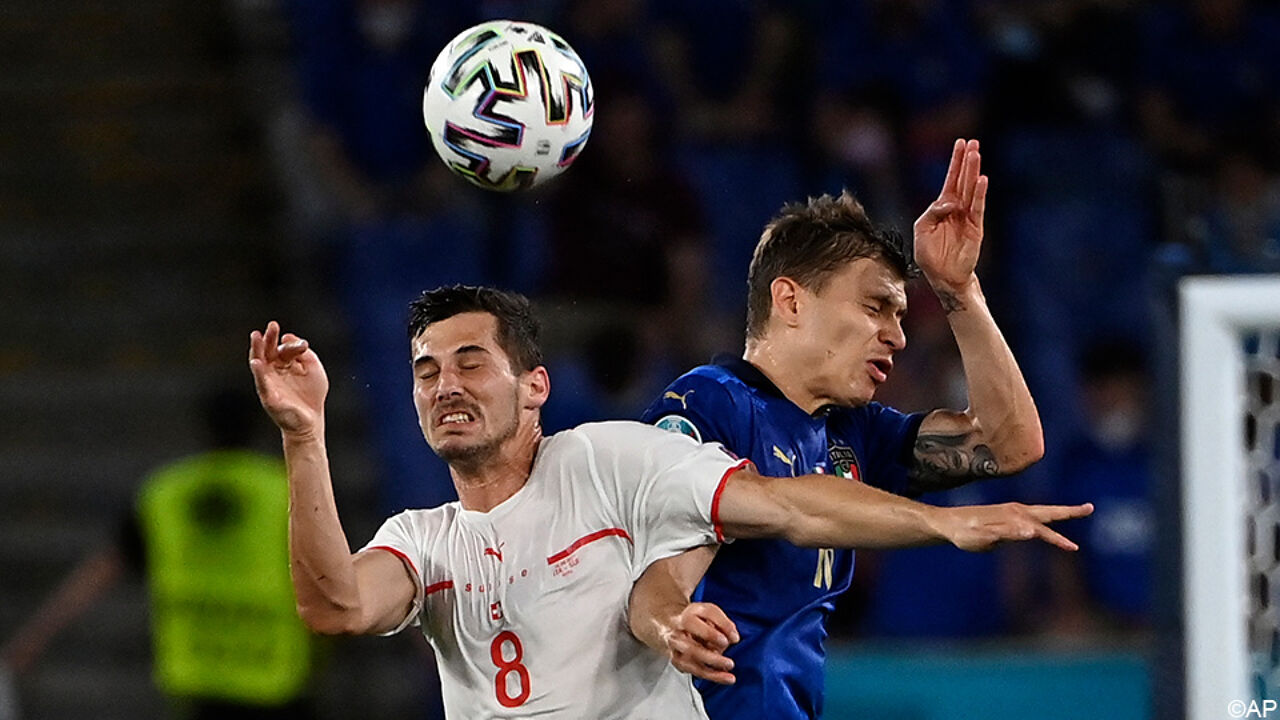 VAR crosses Arnautovic turbulent water

In the second half, Austria unexpectedly came out of its shell. Arnautovic lacked the energy to complete a complicated dribble and Alaba curled over a promising free kick. Italy did not know anymore and to make matters worse, swallowed the 0-1. Arnautovic nodded well, or so he thought. The VAR drew a line through the goal: offside.
Mancini pulled Verratti and Barella aside and brought in Locatelli and Pessina, who had to change the Azzurri's stereotypical football. The Italians again clawed their way into the game, but could really only put their foot next to the Austrians. After all, they smelled that there was a stunt of size in it.
After all, they were not immediately impressed by a poorly aimed shot from Locatelli and a failed frivolous lob from Insigne. Berardi illustrated Italy's poverty of ideas with a completely contrived attempt at circumlocution. Going into overtime, the Squadra had lost almost all of its shine.
Arnautovic's half toe offside prevents Italian backlog

Substitutes bring Austrians to their knees

In the first minutes of extra time, Chiesa demanded all the attention. At first he found Bachmann on his way with a vicious shovel, a little later he hit the mark. He plucked the ball wonderfully from the air, bypassed Lainer and made it 1-0 with a well-deserved shot.
The fatigue crept into the legs of the Austrians. They survived a brushed free kick from Insigne, but it was 2-0 before the end of the first extra period. The struggling Belotti served Pessina, and she finished it delicately.
Yet Austria refused to throw in the towel. Schaub forced Donnarumma to a strong reflex and Sabitzer wasted a double shot.
An improbable header from Kalajdzic put the flames completely in the pan. He scored a corner between four Italians from far in front of the first post. That meant another ten minutes of shivering for Italy, who eventually persevered.
3 goals in overtime: Italy triumphs

"Crudest night of my career"

Franco Foda (Austria national coach): "All my players are disappointed, but proud of their 120-minute performance. This team made history by reaching the 1/8th finals at a European Championship against a favorite that we took to the fire. We were close, but we were inattentive twice."
Foda is already looking ahead to the 2022 World Cup in Qatar: "We played a great European Championship. We have good dynamics in the team and showed good attacking play. This was a very mature performance. From September we will start preparations for the World Cup."
Sasa Kalajdzic (Austria striker): "It is not only the cruelest night of my career, but one of the cruelest in Austrian football history. The Italian victory was not really deserved, we were their equal."
Roberto Mancini (Italy national coach): "I already said before this match that the match against Austria might be more difficult than the quarter-finals. They may have a less good team, but it is extremely difficult to make them fold. If we could have scored in the first half , it might have been a different match."
"My team wanted to win so badly… Fortunately the substitutes brought new blood into the squad. Yes, Verratti and Barella were tired, they were slower because they had run so much. The substitutes were brilliant and helped us run the game "Who do I want to play in the quarter-final against? Belgium or Portugal? It's not easy to choose who we prefer to play against. We would like to avoid both teams, but that's impossible."
Italy is now unbeaten in 31 matches:

Like father Like Son: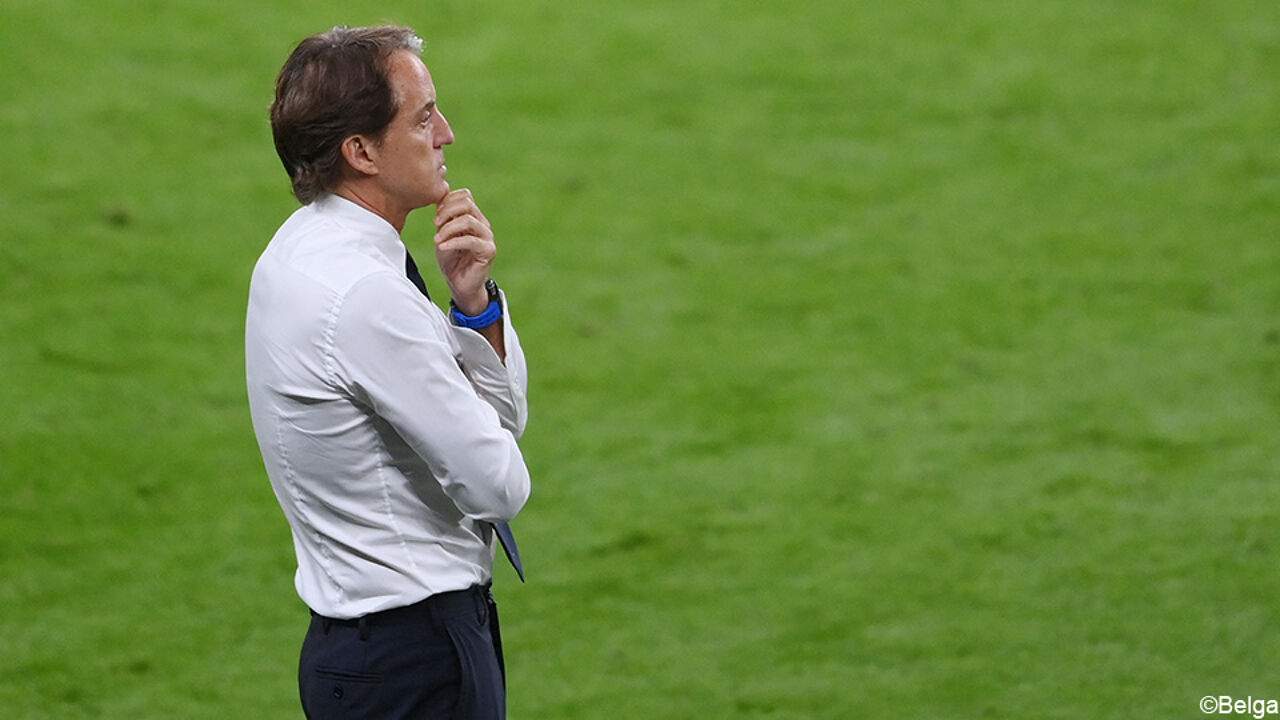 Kalajdzic finds the smallest hole

Sabitzer shoots wildly over and wide