Kenny De Ketele and Robbe Ghys have won the 80th edition of the Six Days of Ghent. The Belgian tandem lived up to its favorite role, although the final was beheaded by a fall in the last team race. Rivals Michael Morkov and Lasse Norman Hansen licked their wounds, Jasper De Buyst and Roger Kluge finished second. The departing De Ketele normally rides one more six days, but the track meeting in Rotterdam is in danger of being cancelled.
Three duos in the running

With 3 couples – De Ketele/Ghys, Mørkøv/Hansen and De Buyst/Kluge – Ghent was preparing for an exciting final day of the Six Days. In the opening numbers some points were collected, especially De Ketele and Ghys profited from this.
With 354 points for Mørkøv/Hansen and De Ketele/Ghys, 't Kuipke looked like a traditional nail biter during the team race. Kluge and De Buyst were also still in the same round, but clearly had fewer points. So they had to drive one lap faster than the other duos.
The team race started with a pleasant joust between the strongest riders. Kluge and De Buyst opted for the offensive, but of course the reaction of the others was not forthcoming. Keisse and Cavendish were even the big winners in the initial phase, they came back to 1 lap of the 6 leaders.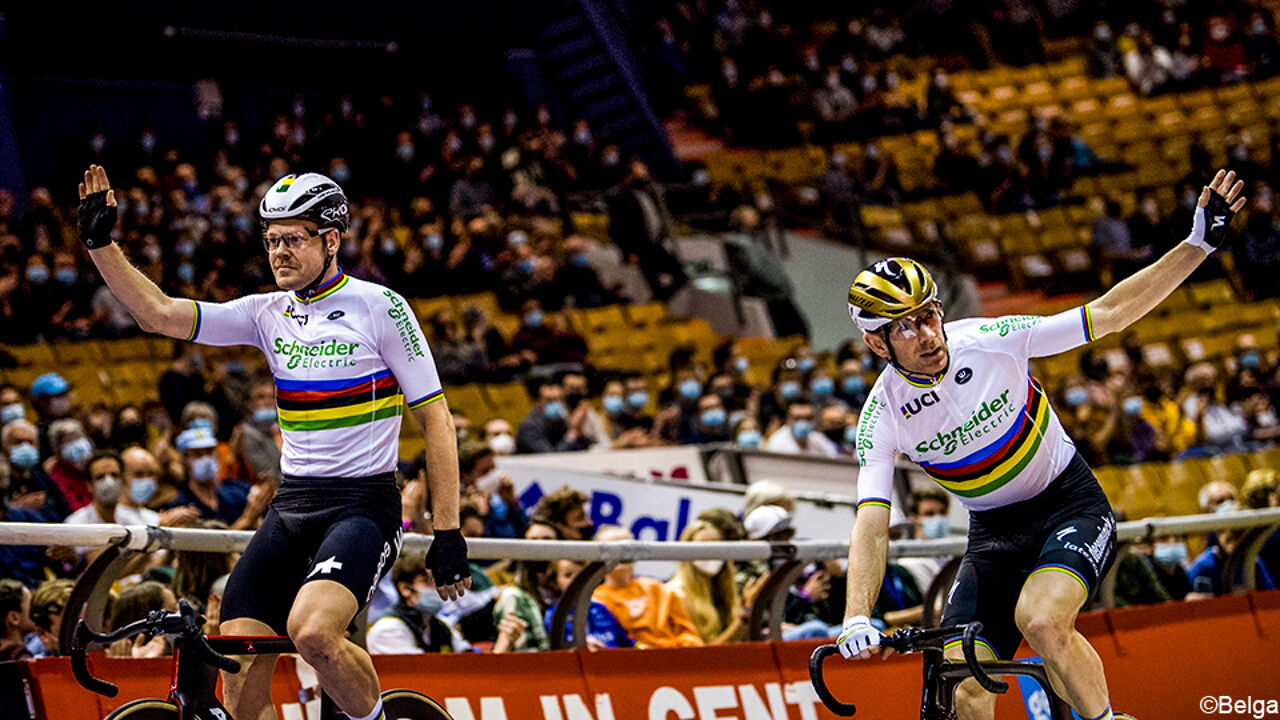 Heavy Flavor Hansen and Cavendish

The last issue of the Six Days was just halfway through, but then it all went wrong. Thijssen drove over a wet spot and could only just keep his bike under control. De Ketele escaped, but Hansen and especially Cavendish fell heavily.
Cavendish lay there for a while, did get up independently, but eventually had to leave 't Kuipke on a stretcher. Hansen continued after the break, but the world champions were out for the win. They lost 5 more laps in the last part of the team race.
Cavendish and Hansen have a serious fall

De Ketele wins last Six Days in Ghent

An exciting final battle followed between De Ketele/Ghys and Kluge/De Buyst. The last duo had to end the Six Days with an extra lap, but De Ketele had no intention of letting himself be a last triumph in his Ghent.
Together with Ghys, he set up a tough 'doublette'. De Buyst and Kluge did what they could, but in the end they had to bury the hatchet. De Ketele ends his career with a bang.
De Ketele equals Matthew Gilmore with 5 overall victories. Only Keisse and Clark (7 times), De Wilde (9 times) and Sercu (11 times) did even better. It was possibly the last Six Days that De Ketele completed. He will normally also start in Rotterdam later this year, but the corona virus will probably put an end to that.
De Ketele and Ghys win the Six Days in Ghent after (short) denouement in the team race

De Ketele is happy, but also talks about anticlimax: "It wasn't fair anymore"

"It went very well all afternoon", Kenny De Ketele analyzed his last day in 't Kuipke.
"We won almost everything and I felt very good. But then there was that unfortunate moment with that fall due to water on the track. We had no chance and drifted away."
De Ketele and Robbe Ghys stayed straight, but challenger Lasse Norman Hansen fell hard. That fall thwarted the Danes' chances of winning.
"It was an anticlimax", De Ketele realized. "Hansen still participated after that, but it was no longer fair."
"It now strikes me in a different way. The end was short and intense," says De Ketele, who may now become national coach. "That's still a question mark, but I'd love to do it."
Jasper De Buyst eventually became the biggest attacker of De Ketele and Ghys with Roger Kluge. "They were too strong," he was honest.
"We drove a good Six Days and were the third best team. After that fall, Hansen clearly didn't feel well anymore. We still drove to win, but the deserved winners are number 1."
Final standings
points
round
1.
Kenny De Ketele/Robbe Ghys
376
2.
Roger Kluge (Dui) / Jasper De Buyst
307
3.
Michael Mørkøv (Den) / Lasse Norman Hansen (Den)
368
+6
4.
Iljo Keisse/Mark Cavendish (GBr)
266
+7
5.
Otto Vergaerde / Jules Hesters
160
+13