Appenzell Ausserrhoden

The Bonapartes as a guest: How the Kurpalast Ochsen revitalized tourism in Gais
The "New Ox" has shaped the unique village square of Gais since 1796. Old pictures show how the Kurpalast with its striking dome tower led to a strong tourist revitalization of the village.
The builder of the splendid Kurpalast was Samuel Heim, the son of the legendary Ueli Heim, who established the good reputation of Gais as a resort with his whey cures. «From 1760 onwards, more and more people in need of health cures from the Zurich and Winterthur area came to Gais. Here, Hans Ulrich alias Ueli Heim (1720–1814) knew how to make commercial use of the medicinal properties of whey claimed by medical authorities ", write the two authors Achilles Weishaupt and Karl Rechsteiner in the book" History of the Gais Community ".
In the village fire of 1780, Ueli Heim's inn was also cremated, and a new building was built in its place, which is now known as the "Falken".
Rise to the leading hotel
The popularity of the health resort of Gais caused the number of guests to increase by leaps and bounds, so that the son Samuel Heim (1764–1860), who followed in the footsteps of his father Ueli, had a larger house built in 1796 called the "New Ox". It was a magnificent half-timbered structure with a hipped roof and a striking dome tower that has now risen to become one of the leading hotels in the Appenzellerland.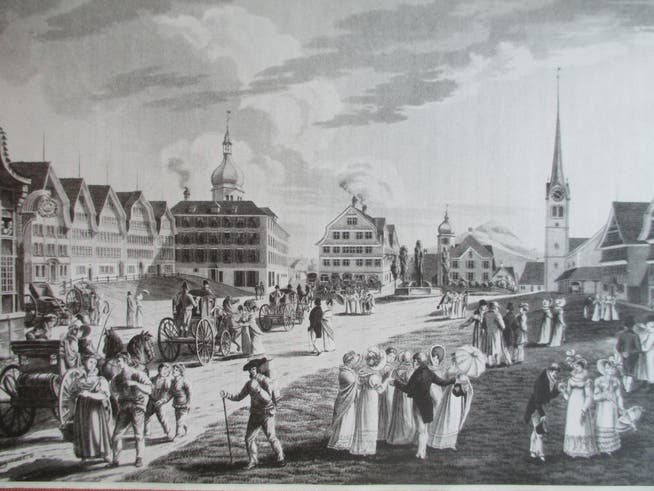 Celebrities from half of Europe were now in Gais for a cure and resounding names like Louis Bonaparte, ex-King of Holland, and his wife Hortense de Beauharnais (stepdaughter of Emperor Napoléon I) as well as numerous other noble people were the best advertisements for the "New Ox" and Gais.
Inexorable decline
Although the Gais doctor Johann Heinrich Heim (grandson of Ueli Heim, 1802–1876) tirelessly invoked the healing power of whey in writings and lectures, the fierce competition from other health resorts such as Weissbad, Heinrichsbad (Herisau) and others faded the glamor of Gais. In addition, from the late 1840s onwards, Heiden surprisingly quickly became the leading health resort in Appenzell. "After the Heim era, the decline could no longer be stopped," write the authors of the Gaiser Buch. "Many a person had to watch the mismanagement in the new ox. From 1864 until the cessation of operations in 1901, no fewer than thirteen landlords gave each other the handle … »
But the Ochsen is still the defining building on the Gaiser Dorfplatz, which today still has two restaurants with hotel rooms: the "Krone" and the "Falken".