The President of the National Assembly gathered his troops on Saturday in the Meuse, a few days after the visit of Emmanuel Macron.
THE WORLD
|
|

By Lucie Soullier (Special Envoy to Verdun)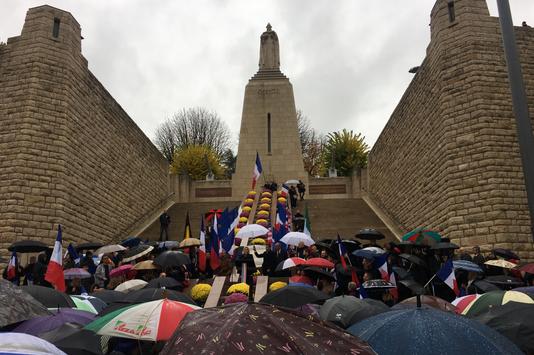 Noon sounds under the drizzle of Verdun, the clash can begin. Referring to France, Marine Le Pen has just paid tribute to "The greatest military victory in its history" in front of the monument to victory and the soldiers of the symbolic city of the First World War, Saturday, November 10. Blue-white-red flags in one hand, umbrellas in the other, lepenist factions ovation the boss of the French far right.
On the opposite bank of the Meuse, whistles are heard. Thirty people came to brandish a poster as a welcome: "Nationalism leads to war". A blue parka sings the chorus of black Béruriers adapted for the occasion – "The hairy bother the National Front" – while a resident annoys: "Let her come to see her troops another day". Yet it is precisely on this weekend of commemoration of the centenary of the end of the First World War that the National Gathering (RN, ex-FN) decided to meet in Verdun.
" We arrive ", prompt some militants of the now renamed National Rally (RN), from the bridge that separates the two camps. Noon twenty rings in Verdun, the confrontation is over. The anti-Le Pen disperse, framed by the police, while the tricolor flags hilarious to their banquet.
Under the marquee mounted for the occasion, "We do not do politics today", assures a councilor of the Pas-de-Calais. An entire bus has moved since "The circo de Marine" to share bites with the queen but do not do politics, so.
At the podium, you'd almost believe it. The executives of the RN parade here to tell the story of a pigeon hero of war, there the life of the hairy sacrificed, or to depict the moor of 1914, …