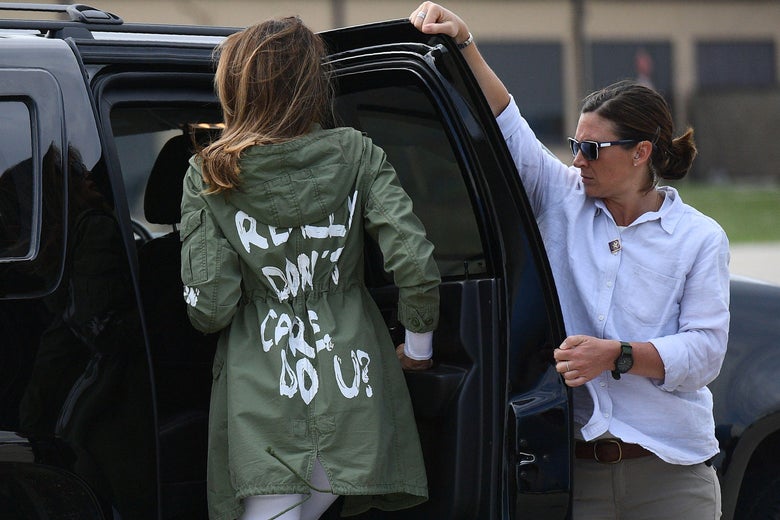 First Lady Melania Trump finally spoke about her "I really do not care what U?" Jacket she carried on a plane in June to a Texas detention center housing children separated from her parents at the border. Considering how she bore it at the height of the controversy over her husband's decision to separate children on the border from their parents, many saw the jacket as very insensitive. But the First Lady said in an interview that the jacket was a message to the media. And the key, said the First Lady, was when she wore the jacket.
Melania Trump said it was "obvious" that she did not wear the jacket for the kids. "I wore the jacket to get on the plane and off the plane" Melania Trump said in an interview with ABC, "And it was for the people and the left media who criticized me and I want to show them that I do not care, you could criticize whatever you want to say, you can say it, but it will not stop me to do what I think is right. "
When Tom Llamas asked her if that meant she sent a message with the jacket, she confirmed it was her. "It was some kind of message, yes," she said. "After the visit, I put it back on, because I see how the media are angry, obsessed with it." She got frustrated when the talk in the media focused on what she was wearing and not what she had done to Texas. "I would prefer them to focus on what I do and on my initiatives as what I wear."
This is quite a contrast to what her spokeswoman said when the jacket became a controversial topic. At the time, her spokeswoman, Stephanie Grisham, said it was "a jacket" and "there was no hidden message." President Trump, however, had written on Twitter that the message of the jacket "refers to the fake news media, Melania has learned how dishonest she is, and she really does not care anymore!"
During the interview she recorded during her recent trip to several African countries, the First Lady said that the policy of separating families at the border excited her absence and she had no idea she was coming. "I did not know that this policy would come out," the First Lady said in an interview with ABC News. "I was blind of it." She said that she would not hide her feelings from the President. "I told him I did not think that was acceptable and he felt the same," she said.
Melania Trump also rejected speculation that she spent a lot of time worrying about her husband's alleged infidelity. "It's not a worry and focus of mine, I'm a mother and a first lady, and I have much more important things to think about and do." she said, "I know that people like to speculate and media likes to speculate about our marriage." Although she realized that "it's not always pleasant" to hear the allegations, the First Lady also insisted that she know "what's right and what's wrong and what's true or not true." As Llamas, the First Lady asked if she loved her husband, she said, "Yes, we're fine."