FABIOLA FERRERO FOR "THE WORLD"
ReportageReserved for our subscribers
Venezuelan photographer Fabiola Ferrero has been meeting with people from rural areas of her country. Where villagers are trying to live somehow, despite the economic crisis and political stalemate.
I spent most of my childhood on a brown-water beach in Venezuela, Machurucuto, Miranda State. All day, my friends and I were enjoying mangoes and cookies. But now, the crisis veils memories. Back on the beach a few months ago, I saw people from nearby villages pick up the mangos from the gardens and cart them away. This is how I describe the shortages in the rural areas of Venezuela: we no longer eat fruit for pleasure, but for need.
In some communities, access to basic services has always been precarious, well before the economic crisis. But today, the lack of water, food, gas is extreme. In October 2018, 82% of the population was short of water regularly, and the situation worsened with recent power cuts.
This is what I wanted to show in this series of photographs. Record how the average Venezuelan survives in the midst of the worst economic crisis in the country. The once noisy streets, emptied of their inhabitants, ruined buildings show the ancient glory of what was once the richest country in South America. The big rusty grills today were the source of food for Venezuelans. Hard to find now. According to an independent survey of several universities, 90% of families do not have sufficient resources to feed themselves.
"Nothing matters"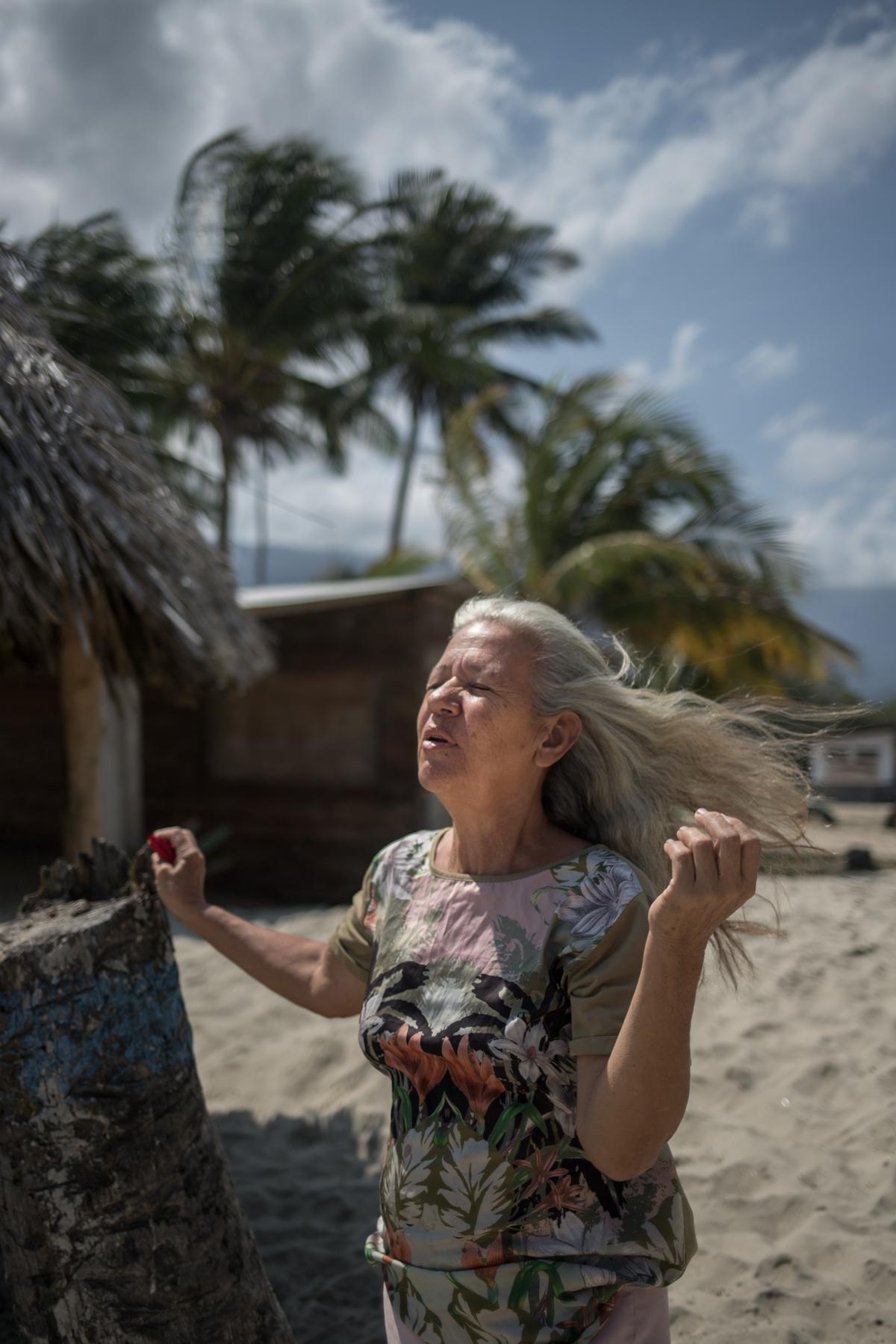 One morning, I met Bickeyma Morales in Patanemo, in the state of Carabobo. This woman refused to be a shadow. When asked each question about the crisis, she answered by evoking the sea. "I do not need anything elseshe thought. Look at this view. " No one in the village was aware of what was going on outside because the phone had not been around for a year. They cooked on a wood fire and fed on fish caught in the sea. "Nothing matters, she insisted, when you are on the Patanemo coast. "
The next day, I went to see women in Tocoron, in the Tuy valleys. A village devastated by drought and controlled by criminal gangs. It was there that I knew Katiuska, pregnant with her seventh child, and who ate only yucca, a kind of wild asparagus, for several days. She looked lost and had no energy left. His lips were pale. She spoke with long silences, as if she was falling asleep, and she caressed her belly. She told me she could not take it anymore. "My children tell me: Mom, yesterday I dreamed that I was eating. What can I answer them? " Me neither did I know what to answer him. To photograph Venezuela is to be filled with magic in the morning, and to feel your heart torn at sunset. Or the opposite.