Soft Cranesbill (Geranium molle) reseeds itself every year. The flowers are no larger than a few millimeters, but the pink color makes them stand out. The incised petals are bright pink to purple, they change slightly to blue. The soft cranesbill is about as common as the small cranesbill, which will be featured as the sidewalk plant of the week in this place in a month's time; you see the soft ones just a little more often.
soft-haired
Can't miss, you might think; such a soft-haired plant with pink flowers, that must be him. But there are more stork beaks that can bear the predicate 'soft-haired'. You need sharp eyes or a magnifying glass. Hairs should grow on stem, leaves and flower stalk, short and long intermingled, as shown here in the photo. The small cranesbill has only short hairs.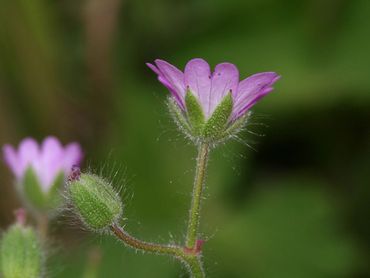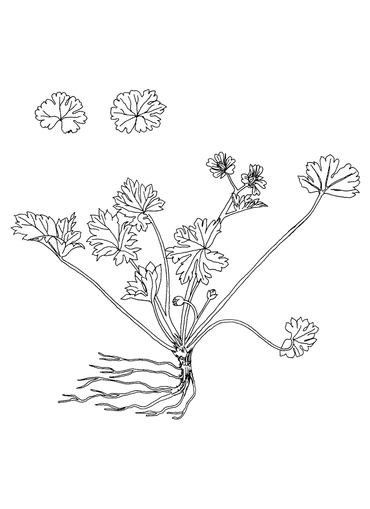 family
The cranesbill belongs to the geranium family, with fruits that resemble a stork's beak. The name geranium is also used for a cultivated houseplant, which is related, but belongs to the genus Pelargonium.
Place
Soft Cranesbill blooms for a long time: from May to November. It does well in lawns, on sandy curbstones, in tree mirrors and on sunny pavement with little traffic. Even in winter, the round leaves are easily recognizable as small umbrellas in the lawn.
Another difference
If you are still in doubt after you have looked at the hairs, there is another difference: the stigmas of the soft cranesbill are purple on the inside, those of the small ones are yellowish.
The Stoepplantjesalbum contains a beautiful portrait of the soft cranesbill, by Marianne van der Stee. This week her original work, along with all the others from the book, will be moved to Grave where it will be on display again from June 1. Go and have a look, but wherever you are, you can register the soft cranesbill for the sidewalk plant survey. Join!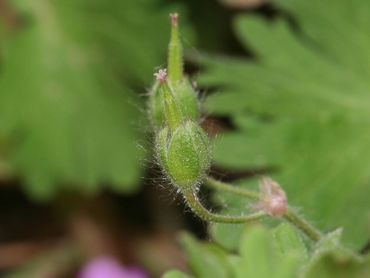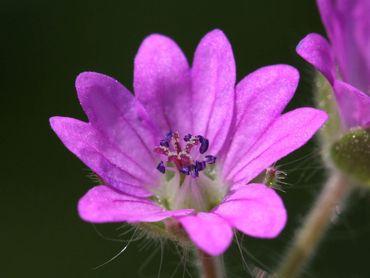 Text: Hanneke Jelles, Hortus botanicus Leiden
Photo's: KU Leuven; Nathalie Tirion