In 2021, the International Maritime Bureau (BMI) counted 132 acts of piracy in the world's seas, the lowest figure since 1994. In the Singapore Strait, they increased by 50%.
Acts of piracy hit their lowest level in 27 years last year, following a marked drop in attacks in West Africa, the International Maritime Bureau (BMI) said on Thursday.
A total of 132 acts of piracy and armed attacks were recorded last year in the world's seas, the lowest figure since 1994, according to the BMI's annual report. These incidents include 115 vessels boarded, 11 attempted attacks, five vessels shot and one hijacked vessel.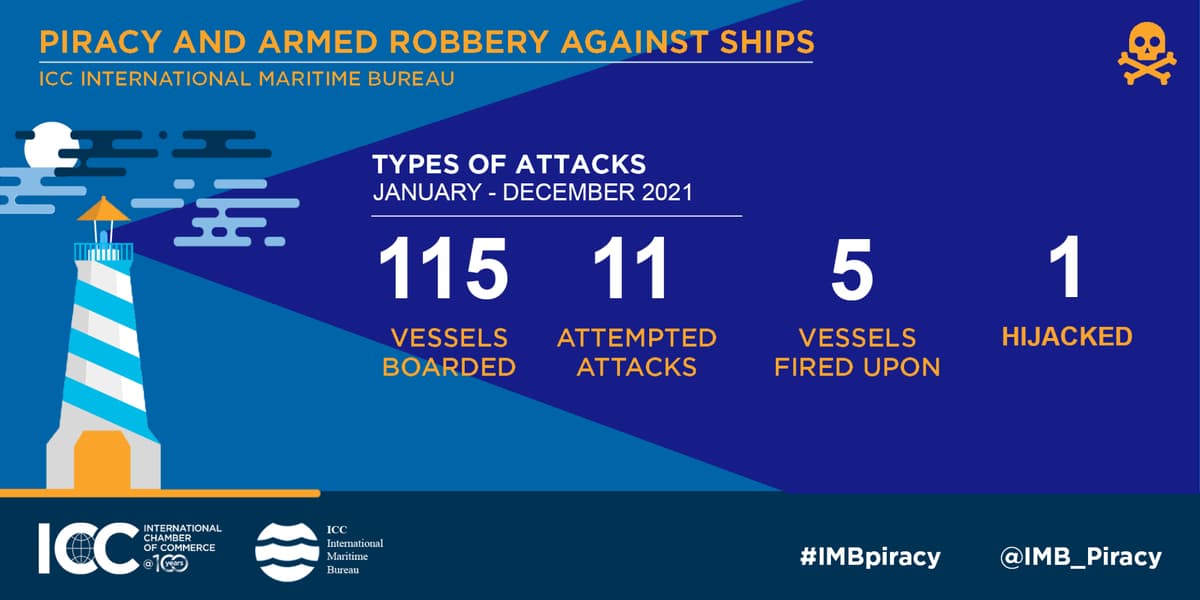 The office highlights a drop in piracy in the Gulf of Guinea off West Africa, with 34 incidents in 2021, up from 81 the previous year. The waters of the Gulf of Guinea, which stretch for thousands of kilometers, from Angola to southern Senegal, are considered among the most dangerous in the world for piracy.
Bureau Director Michael Howlett praised "the robust actions of the national and regional navies in the Gulf of Guinea, which appear to have positively contributed to the decline of reported incidents and ensured the continued safety of crews and commerce." But he also called on the countries of the region to redouble their efforts to "guarantee a long-term and lasting solution".
Singapore Strait
The overall reduction in reported incidents in 2021 is attributed to a drop in reported activity in the Gulf of Guinea region, which fell from 81 reported incidents in 2020 to 34 in 2021. However, as kidnappings at sea have fallen By 55% in 2021, the Gulf of Guinea continues to account for all kidnappings worldwide, with a total of 57 crew members caught in seven attacks.
Acts of piracy in the region home to Africa's two largest oil-producing countries, Nigeria and Angola, have disrupted international shipping routes and cost billions of dollars.
In Asia, the Maritime Bureau recorded a 50% increase in attacks in the Singapore Strait last year over a year, with 35 attacks, the highest figure since 1992. These are mostly opportunistic attacks according to the body. Of these 35 incidents considered mostly as opportunistic attacks, 33 ships were boarded. Weapons, bladed or firearms, were reported in 13 attacks. Two crew members were injured.
South American ports (Brazil, Colombia, Ecuador and Peru) and those of Mexico and Haiti also continue to be targeted by maritime crime. Thirty-six incidents were reported in 2021 compared to 30 in 2020. In December, in Port-au-Prince, Haiti, four thieves disguised as fishermen and armed with guns and knives boarded a bulk carrier to rob the ship. 'crew. A shootout broke out with the ship's security service resulting in the deaths of two of these pirates.