Coinbase Global stock chart at 1 day intervals. Source: Trading View
Shares and bonds of Coinbase Global, which operates the cryptocurrency exchange of the same name, collapsed on Wednesday to new all-time lows. This is another signal of investor skepticism regarding the prospects of both the cryptocurrency industry in general and the cryptocurrency exchange in particular in the face of a rapid increase in rates in the United States.
Today, Coinbase shares are testing the $50 area, while on the first day of trading after the IPO in April 2021, they closed at $328.28. The company's bonds also declined, trading in line with the riskiest papers.
---
"Coinbase is unlikely to return to previous levels of profitability any time soon unless there is a significant increase in the price of cryptocurrencies or their volatility," wrote Goldman Sachs analyst Will Nance. "We believe that it will be difficult for the company's shares to outperform the market in the near term."
---
Yesterday, the company reported a sharp YoY decline in first quarter revenue, well below market expectations. In addition, Coinbase took a big loss against earnings a year earlier, and also warned that trading volume and the number of customers transacting monthly are likely to be lower in the second quarter than in the first.
The company also released a new risk disclosure that raised concerns among some Coinbase customers about the safety of their crypto assets held by the company in the event of its bankruptcy.
Coinbase CEO Brian Armstrong was quick to tweet that "there is no risk of bankruptcy" and user funds are safe. At the same time, he apologized for not disseminating the new risk disclosure more actively.
Since the beginning of the year, Coinbase shares are down about 80%. There are other victims: crypto miners Riot Blockchain and Marathon Digital, as well as software maker MicroStrategy, which in recent years has become, in fact, a cryptocurrency hedge fund, have collapsed by about 70% over the same period. Bitcoin dropped below $30,000 this week for the first time since July 2021, losing about 35% since the start of the year.
In the past five days, Coinbase shares have been losing about 10-20%.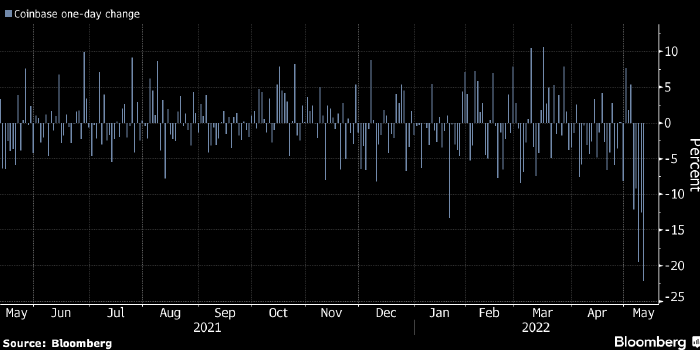 Percent daily change in Coinbase stock. Source: Bloomberg
MarketSnapshot — ProFinance news. Ru and market events in Telegram
On this topic:
Does the collapse of cryptocurrencies pose a threat to the financial system?
Bitcoin fell to its lowest level since January
Cryptocurrency stocks are depreciating faster than cryptocurrencies
Venture Capitalists Caught Crypto Fever
Be prepared to lose all your cryptocurrency money, EU regulators warn