Andrea Dovizioso was taken to hospital on Sunday after a crash during an MX race. The Ducati Team rider has a broken collarbone left over from the crash during a regional motocross race in Faenza, Italy.
Andrea Dovizioso – besides a gifted MotoGP rider and also an avid motocross rider – recently received permission from his employer Ducati to participate in a regional motocross competition in Faenza, Italy. Sunday afternoon during the race it went wrong, the Ducati crashed after a jump, resulting in a crash. After the crash, it was immediately clear that Dovi04's left shoulder had not come out of battle completely intact.
Dovizioso was then taken to hospital in nearby Forli for further medical examination and to confirm whether his left collarbone was actually broken. However, there is no official confirmation at this time.
A big setback for the Ducati Team rider just before the restart of the 2020 MotoGP World Championship season. However, with more than two weeks to go, a collarbone fracture does not have to be an obstacle to being able to start in Jerez on the weekend of 17 to 19 July, but it is not an ideal preparation.
Dovizioso becomes the second rider to injure himself in a crash with a dirt bike just before the (re) start of the 2020 MotoGP season. A few days ago, countryman Marco Bezzecchi (Moto2 team Sky Racing Team VR46) suffered an ankle fracture during a fall during an MX training.
Update Sunday afternoon 28-06-2020 at 4:45 PM:
Medical examination in Forli's sick skin has shown that Dovizioso has indeed had a fracture in his left shoulder. On Sunday evening the Ducati rider will undergo an operation and a picture will be placed on the break. According to the treating physicians, it should be possible to recover in time for the Grand Prix to be held in Jerez de la Frontera on the weekend of July 17-19..
---
Are you a loyal visitor of this website, do you want to support our work and also regularly have a chance to win fantastic prizes?
Become a Racesport.nl supporter now. With a voluntary contribution of at least € 15.00 you can rightfully call yourself a loyal Racesport.nl supporter *. As a Racesport.nl supporter you not only support the work of the Racesport.nl editors, but you also regularly compete for fantastic prizes. The actions and results of this will from now on be exclusively and exclusively published and announced through a special Racesport.nl supporters newsletter.
Would you also like to become a supporter of Racesport.nl? You can do this via the following payment link: ING – Payment request or by scanning the QR code below.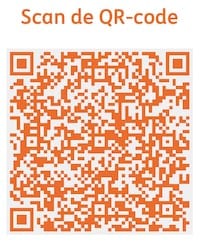 * Racesport.nl visitors pay at least € 15.00 and are therefore connected to the site as a Racesport.nl supporter for a season. In January you will automatically receive an email asking if you want to register for a season again.
When paying please state your e-mail address where you wish to receive the newsletter. You can also send an email to office@racesport.nl.
View your Racesport.nl on your mobile, download the new Racesport.nl App now