Sylvia van Driessche (46) is the author of seven novels and the web series 'Love tips to myself'. She already had the writing bug as a young girl, she says in our series in which BVs share an old class photo, but her childhood was even more colorful than that. "As a seventeen-year-old, I went to the youth club in a dress and heels. We were very busy with boys there."
Sylvia van Driessche: "I studied modern languages ​​at the Onze-Lieve-Vrouw Institute in Zele, at that time without economics. That's why the small class with all girls. Female power! The direction suited me: in the fifth year we made a school paper and that's how I discovered how much fun that is."
"My first interview was with Paul Michiels from Soulsister. I took it off with Tamara, who I also incorporated the word "unconsciousness" into one of my books. Someone who knows nothing. We couldn't say that about our class teacher. He traveled the world in his spare time and gave me the insight that life is what you make of it."
"Perhaps I haven't changed much in appearance because of those striking curls. They did bother me. You can see in the class photo that I was blowing out my bangs and trying to hide them. Inwardly I overcame a certain shyness. Yet compared to the passport photo, on which I was just thirteen."
"As editor-in-chief at Joepie, I learned to push my ideas through. I did dare to experiment with clothes at an early age, because the sleeves of the white-red top could also be worn on the shoulders. (laughs) As a seventeen year old I went overdressed with a dress and heels to the youth club. There I met up with my classmates and we were very busy with boys. Sometimes you saw girls who let their girlfriends fall for a sweetheart. Then I decided: I will never do that."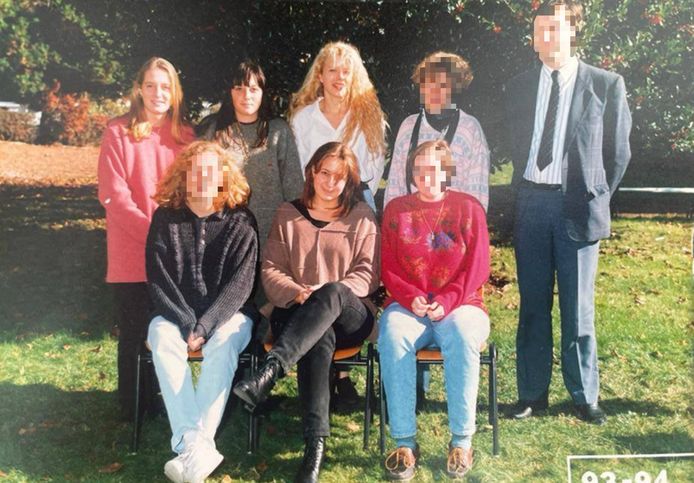 Same diary as Sarah Jessica Parker
"In my room I wrote down my experiences in diaries. I had a separate writing area with a make-up mirror and a cloth hanging around it, just like Sarah Jessica Parker in 'Sex and the City'. When I reread my diaries, the maturity is disappointing. (laughs) It said that we were going to Antwerp with the proceeds of our newspaper. We visited the red light district, with a teacher. Now that would no longer be possible. I liked the relaxed atmosphere."
What do the classmates say?
Each: "Sylvia's dad worked as a journalist in Antwerp. After the exams we were allowed to ride with him for a day of shopping. Quite a trip for me, because my life took place in Zele. We looked forward to going to a cafe there. There were four at one intersection, which was quite a lot at the time. The foam party in the youth house, always at the beginning of May, was our highlight. Every morning in class we listened to Sister Agnes pray through the microphone. We were good students."
Ann: "Sylvia stood out for her looks and also had the brains. She was so smart, I knew she would write and we would hear from her. On the one hand she was a village girl just like us, on the other hand she also had contacts with BVs through her dad. They visited them and Sylvia was allowed to go to awards. It was already her little world then, although she never bragged about it. On the contrary, she was modest and never noisy in our class."
Tamara: "On our 100 Day Show, Sylvia was dressed as Marilyn Monroe and sang 'Diamonds Are a Girl's Best Friend'. We were able to persuade our class teacher to hand over a ring to Sylvia at the end of the act and get on his knee. Everyone started clapping loudly: hilarious!"
"Sylvia's trademark was red lipstick, and we laughed that her curls ruled her. She was very popular with the boys when we went dancing in Zele. In class we always sat next to each other, giggling loudly with the nicknames we gave each other. I hardly dare say it: Jujuwoewoe and Woezjieboeboe. She incorporated my made-up term ignorance in one of her youth novels."
Every week, a well-known Fleming shows off with neat hair and a neat outfit on a class photo from the old box. They talk about the child they were and the person they have become.
Read also:
THE CLASS PHOTO. This is what actor Axel Daeseleire looked like as a little boy. "The Daeseleires? All wild brats"
THE CLASS PHOTO. This was Natan designer Edouard Vermeulen (65) as a little blond boy. "I was a loner"
Free unlimited access to Showbytes? Which can!
Log in or create an account and don't miss a thing of the stars.

Yes, I want free unlimited access