ADAC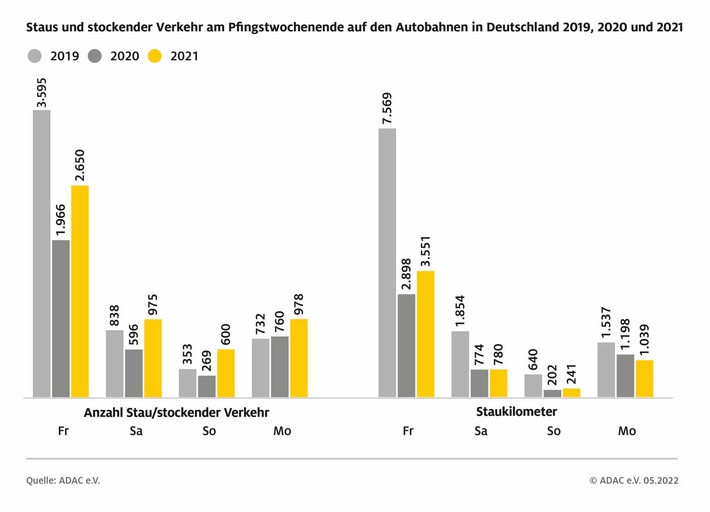 Munich (ots)
There is a risk of long traffic jams on the trunk roads next weekend. Drivers in almost every federal state are on the road, be it for a long Pentecost weekend, such as in Berlin, Bremen and Lower Saxony, where there is still one day off from school after Whit Monday, June 6th, or for a holiday: Baden-Württemberg and Bavaria are starting two-week Mecklenburg-Western Pomerania and Saarland on a one-week vacation. Therefore, the risk of traffic jams in southern Germany is particularly high. The most massive traffic disruptions are expected on Friday afternoon, June 3rd, in the south also Saturday morning, June 4th, and Whit Monday, June 6th. The desire to travel among Germans is likely to be as high this year as it was before Corona.
These are the particularly busy routes:
– Greater Hamburg, Berlin, Stuttgart, Cologne, Frankfurt, Munich areas
– Trunk roads to the North and Baltic Seas
– A1 Cologne – Dortmund – Bremen – Lübeck
– A2 Dortmund – Hannover – Berlin
– A1/A3/A4 Cologne Ring
– A3 Oberhausen – Frankfurt – Nürnberg – Passau
– A4 Kirchheimer Dreieck – Erfurt – Dresden
– A5 Hattenbacher Dreieck – Frankfurt – Karlsruhe – Basel
– A6 Kaiserslautern – Mannheim – Heilbronn – Nuremberg
– A7 Hamburg – Flensburg
– A7 Hamburg – Hanover – Würzburg – Füssen/Reutte
– A8 Karlsruhe – Stuttgart – Munich – Salzburg
– A9 Munich – Nuremberg – Berlin
– A10 Berliner Ring
– A11 Berliner Ring – Dreieck Uckermark
– A19 Dreieck Wittstock/Dosse – Rostock
– A24 Berlin – Dreieck Wittstock/Dosse
– A61 Mönchengladbach – Koblenz – Ludwigshafen
– A81 Stuttgart – Singing
– A93 Inntal triangle – Kufstein
– A95 / B2 Munich – Garmisch-Partenkirchen
– A99 bypass Munich
The Whitsun travel wave also covers the classic international routes Tauern, Inntal, Rheintal and Brennerautobahn as well as the Gotthard route. But you also need a lot of patience on the long-distance roads to the Croatian coasts. Holiday returnees are stuck in traffic jams, especially when entering Germany at the Bavarian crossings Suben (A3), Walserberg (A8) and Kiefersfelden (A93) because of border controls, but less because of corona controls and more as a result of the refugee problem. Most European countries have relaxed or lifted their corona entry restrictions. For this reason, there are hardly any controls.
Press contact:
ADAC communication
T +49 89 76 76 54 95
[email protected]
Original content from: ADAC, transmitted by news aktuell