When Hollywood needs the 'child version' of an actress, they've been calling Mckenna Grace (16) for ten years. With about fifty films and series on her CV, she typically has a face that you recognise, without immediately knowing from what. She recently made her debut as a pop star and revealed a secret she's been carrying for years. Who is this girl?
A familiar face
The general public probably recognizes Mckenna from the hit series Designated survivor, in which she played the daughter of President Tom Kirkman, played by Kiefer Sutherland. Or you know her face from the dozens of roles in major films and series such as The handmaid's tale, CSI, Young Sheldon in Independence Day: resurgence.
Remarkably often Grace plays the young version of main characters, as with Margot Robbie in the film I, Tonya en Brie Larson in Captain Marvel. Whoever the adult actress is, with Mckenna you always get the right casting, someone joked in this viral tweet:
A 'terrible' operation
Mckenna also starred in the film Ghostbusters: afterlife from 2021. During the recordings she wore a corset-like brace made of hard plastic, which she never spoke about until recently. It was meant to "correct" her spine because she has scoliosis, a condition in which the spine twists and grows crooked.
When her spine was bent at a 47-degree angle, surgery was inevitable. Otherwise, the angle will become one degree more "severe" every year. "In 20 years I would have passed 60 degrees and it could affect my lungs," she said. NME. Thanks to the successful operation, her back is now at an angle of 6 degrees.
"For the first time in my life, my hips are even and my body is straight," said Grace, who was initially a bit embarrassed about the condition and tried to hide it on set. She was diagnosed when she was twelve. "You have to stand up straight," the directors kept saying. Later she reported it anyway. "That way we could make sure that my clothes didn't give away that one hand was hanging much higher than the other."
Raped in series
Although Grace is only 16 years old, she has played roles with jet-black storylines in recent years. In The handmaid's tale her character became pregnant after a rape. That is always unpleasant, but has an extra charge with a child. Mckenna notices that sometimes her body "thinks" she's really experiencing the bad things and then has to reassure herself, but she doesn't mind playing such roles.
"If we're so uncomfortable with me playing these scenes, why don't we do something for the young women who are really going through this?" she told The Hollywood reporter. ,,Dramatic roles give me the most satisfaction as an actress, and I think it's important to tell stories. And in that way I am part of something bigger than myself."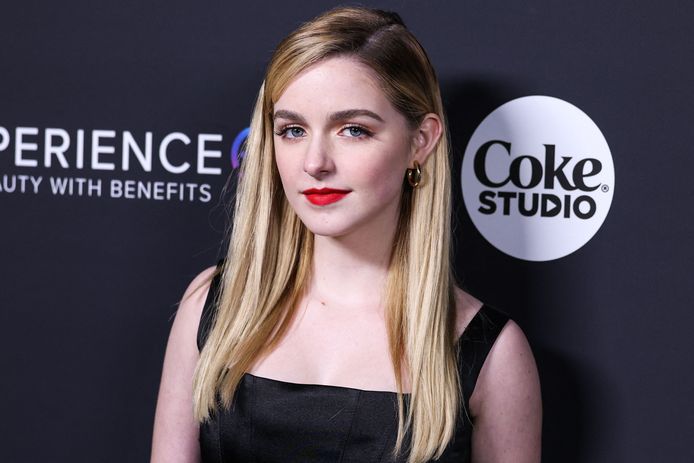 No 'fake baby'
Grace, unlike many young stars, is not the child of famous parents who pushed her. Her father is an orthopedic surgeon, her mother also worked in the medical field before she became something of a coach for her daughter. Raised in Texas, Mckenna herself had the dream as a child to follow Shirley Temple, as she said herself. She went to acting class and was sold, at the age of five she starred in her first commercial.
A serious pop star
During the corona pandemic, she made work of her other love: music. She writes her own songs, often on the ukulele, inspired by the half-Dutch Grace VanderWaal, who in 2016 America's got talent won. Mckenna's music, typical teenage pop about broken hearts, is reminiscent of Avril Lavigne and Olivia Rodrigo. It's not a side project in the lee: several of her clips have been viewed more than 1 million times. Her first EP came out this month.
The brand new pop star will also continue to act, she promised. Last year, she starred in the miniseries A friend of the family, a special moment. For the first time, someone played the younger version of her character. Finally, the girl who plays the younger version of every white woman in Hollywood has her own younger version. Watch me go!"
Also listen to the AD Media Podcast below or subscribe via Spotify or iTunes. Find all our podcasts on ad.nl/podcasts.
Watch our Show & Entertainment videos below:
Free unlimited access to Showbytes? Which can!
Log in or create an account and don't miss a thing of the stars.

Yes, I want free unlimited access