Hard bass is a dance music style from St.Petersburg. Some songs are also popular in Germany, for example "Bochka, Bass, Kolbaser", which should not be missing at any over-the-top teenage party. "KGB", "Stalin" and "Send Nukes" (all by DJ Blyatman) are currently being viewed a little more critically.
One of the most famous songs of the genre is "Tri Poloski" by Davay. "Tri Poloski" means something like "three stripes". It's a love letter to Adidas, the favorite brand of the Russian underclass.
Above all, young people hanging around, so-called gopniki, are associated with the brand with the three stripes. The love for the German manufacturer goes so far that walking down the aisle in sportswear is no longer taboo.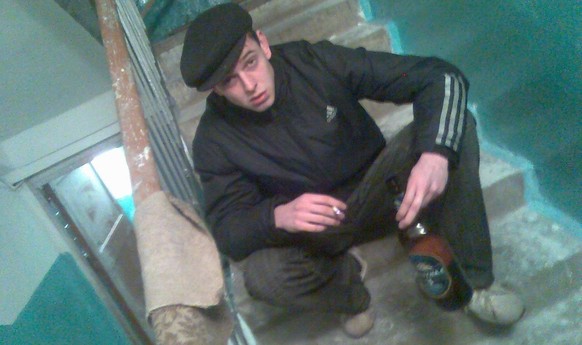 Gopnik with Adidas jacket.image: wikicommons
In the future, it will be much more difficult for residents of Russia to get hold of the three stripes of their desire. Because Adidas is withdrawing from Russia due to the Russian invasion of Ukraine. The partnership with the Russian Football Association has been terminated and the operation of its own shops and online trading will be suspended until further notice.
Competitor Nike is also stopping online trading in Russia, various German car manufacturers, American fast food chains and even a Chinese smartphone giant no longer deliver to Russia – an overview (which unfortunately cannot be complete):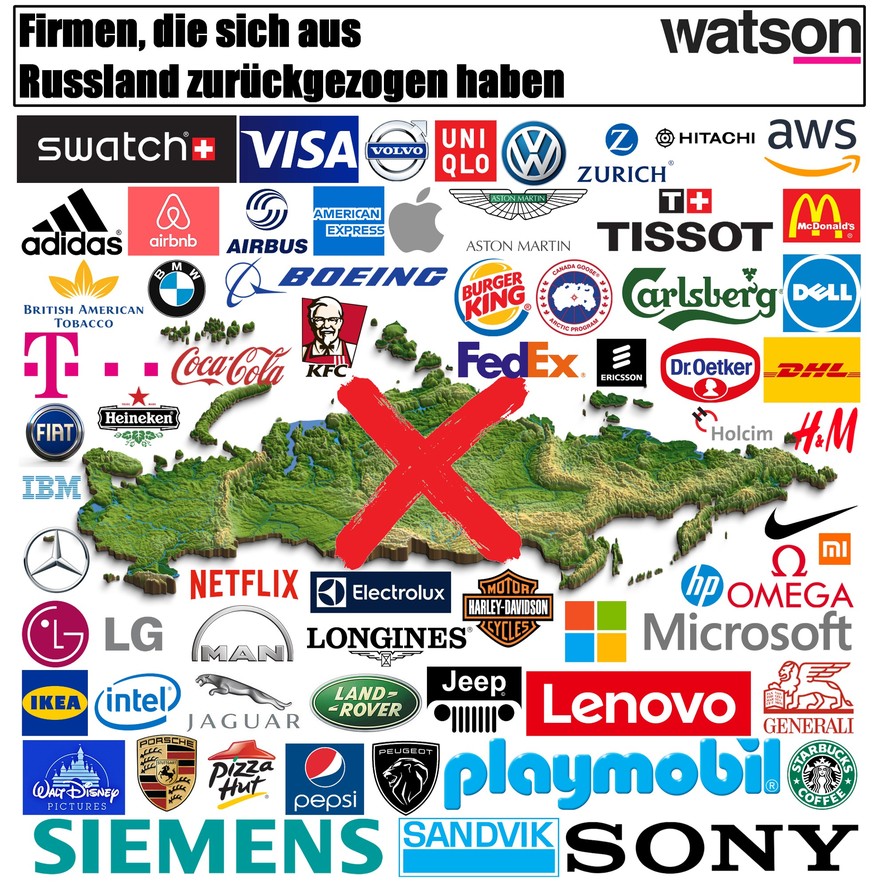 bild: watson.ch
IKEA: Has paused all import and export in Russia and Belarus.
Volkswagen: Stopped production at the Kaluga and Nizhny Novgorod sites at the beginning of March and stopped exporting vehicles to Russia.
Porsche: VW subsidiary Porsche also stopped all exports to Russia at the beginning of March.
Mercedes: A day before VW, Mercedes also stopped production in and exports to Russia.
Lenovo: No longer sells computers, notebooks and servers in Russia.
HP: Like Lenovo, HP no longer supplies computers to Russia.
Apple: Apple does not operate any retail outlets in Russia. The sale of the devices was limited to online orders. The tech giant has now canceled this in Russia.
Intel: Intel has canceled all of its operations in Russia.
Carlsberg: The Danish beer brewer sells its offshoots in Russia and withdraws.
BMW: BMW also stops the production of vehicles in Russia and export.
Playmobil: Playmobil has stopped exporting its toys to Russia.
Volvo: No longer delivers cars to Russia.
Harley Davidson: No more American cult motorcycles for the dreaded Russian motorcycle gang «Night Wolves». Harley Davidson no longer delivers to Russia.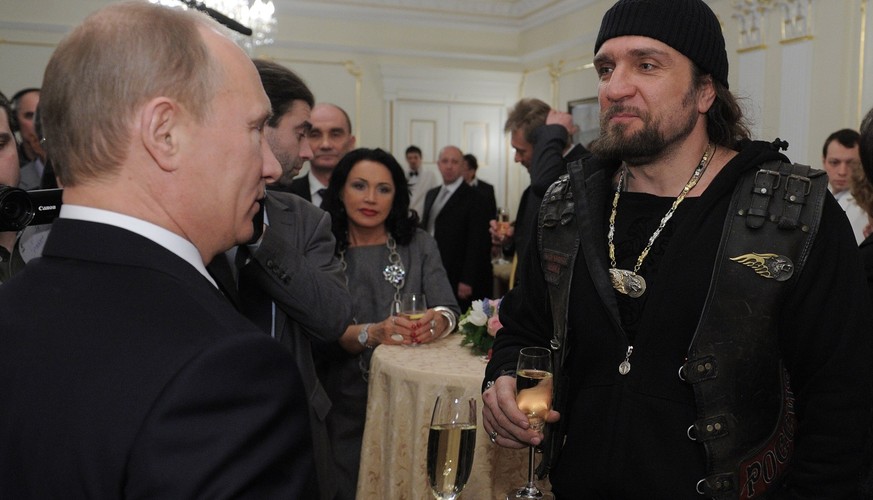 Putin and Night Wolf boss Saldostanov toast together.bild: premier.gov.ru
Jaguar / Land Rover: The British-Indian car manufacturer Jaguar Land Rover no longer exports to the largest country in the world.
Aston Martin: No longer delivers to Russia.
MANwhich belongs to the Traton Group together with Scania, stops production and sales of trucks and buses in Russia.
Airbus: No longer sends spare parts to Russian airlines, but is checking whether the maintenance service can still be maintained.
Boeing: Like Airbus, no longer supplies spare parts, but also stops offering technical support and maintenance work.
Sandvik: The Swedish engineering group has given up all activities in Russia.
Airbnb: Suspends its operations in Russia and Belarus.
DELL: Computer manufacturer Dell no longer sells devices in Russia.
Electrolux: The Swedish electrical appliance manufacturer withdraws from Russia.
Starbucks: Sells off its branch network and withdraws from Russia.
Adidas: Closes all stores and the online shop in Russia.
British American Tobacco: Completely withdraws from Russia.
Canada Goose: No longer sells goods to Russia.
Uniqlo: Roger Federer's clothing sponsor from Japan has made a veritable U-turn and closed its 50 stores in Russia until further notice.
Nike: Has not renewed contracts with its trading partners in Russia and is therefore about to withdraw.
American Express: Has ceased operations in Russia.
Visa: Like American Express, Visa has also ceased operations in Russia.
Zurich Insurance Group: Zurich sells its Russian business to eleven employees who continue independently with a new company name.
Heineken: Heineken also ceases all business activities in Russia.
Pepsi & Coca Cola: Both soft drink manufacturers are shutting down Russia's juice.
McDonald's, Burger King, Pizza Hut, KFC: There is no other way to put it, but the crème de la crème of American fast food culture no longer wants to do business in Russia.
Netflix: Can no longer be subscribed in Russia.
Sony & Nintendo, Microsoft: If you want to buy a video game console in Russia, you will have problems. Sony, Nintendo and Microsoft no longer deliver. At Sony and Microsoft, the range of goods withheld includes various other products.
The Walt Disney Company: No longer releases films in Russia. The rest of the business will be reviewed, a statement said.
Amazon, Prime and Amazon Web Services: Päkli from Amazon will no longer be available in Russia until further notice, and the Prime streaming service and server services will also no longer be available.
Ericsson: Completely withdraws from Russia.
Xiaomi: Became the leading smartphone brand behind Samsung in 2021 with a 30 percent market share in Russia. Nevertheless, the Chinese are turning their backs on Russia, as Ukrainian and Chinese tech portals report.
IBM: Ceases any business activity in Russia.
LG Electronics: No longer delivers products to Russia.
Nokia: Ceases its activities in Russia.
FedEx, UPS & DHL: No longer deliver packages to Russia or Belarus.
Hitachi: Cut off all business contacts with Russia.
Siemens: The traditional German group is withdrawing from Russia "in an orderly process" after 170 years of business activity.
Fiat, Jeep, Peugeot, Citroën and more: All Stellantis Group vehicles are no longer delivered to Russia.
Swatch, Omega, Longines and more: All watch brands of the Swatch Group are no longer exported to Russia.
General: The Italian insurance giant is ceasing operations in Russia.
Dr. Oetker: The food manufacturer from Bielefeld no longer delivers to Russia.
Do not use: bruises guaranteed – Marco gets under the wheels at the wheelball
Video: watson