Before and after gender reassignment surgery for Jin (20), who participated as Korea's representative in 'Miss International Queen Transgender 2022'. (Youtube capture) © News 1
While the world's largest transgender beauty pageant was held in Thailand for the first time in three years, a Korean contestant named 'Jin' was ranked in the TOP 11.
According to Reuters on the 26th (local time), the 'Miss International Queen Transgender 2022' contest was held in Pattaya, Thailand. The first place on the day was Fuchia & Ravenna from the Philippines.
Jin (20), who participated as a representative of the Republic of Korea and ranked in the TOP 11, said in an interview how he felt about coming to the competition from the moment he had sex reassignment surgery.
It has been a little over a year since Jin, who said he was 183 cm tall as an aspiring model, underwent gender reassignment surgery. Jin said, "It is an honor to participate in the competition of my dreams as the representative of the Republic of Korea."
He said, "I don't have anything that can be called a previous achievement," she said.
He continued, "For this competition, I nurtured my external appearance, such as show practice, walking practice, and smiling pretty, and also nurtured my inner side, such as talking with people according to that."
The decisive reason for Jin to undergo gender reassignment surgery is because of a transgender model and winner of the same contest in 2010, Hanmini.
Jin said, "One day, I went to a shop run by Hanmini. At that time, I really wanted to live a second life as a woman. Look, I worried a lot and worried a lot."
At this time, the confident and cool appearance of Hanmini on stage had a great influence on Jin. He said, "I shouted to Mini-nim at the store, 'I want to do that transition, but I'm worried'" and "Minnie encouraged me, 'I'm a gender at this height, and you should live doing what you want too'. I made a firm decision after that day. And I decided to live as a woman."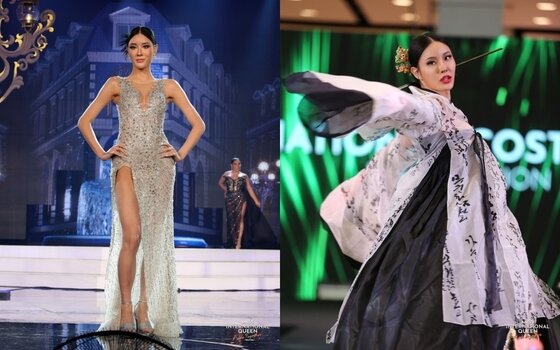 Jin, who participated as a Korean representative, was ranked in the TOP 11. (Captured from Miss International Queen's Instagram) © News1
What was the reaction when you announced to your family that you would undergo gender reassignment surgery? Jin confessed, "It was a shock in itself. Seriously speaking, it was a disaster." "At the time, I was bullied at school because I was too feminine, and I lived with depression and panic disorder."
In this situation, Jin said that he thought his parents were the people he could trust, but the result was not good. He said, "I didn't know that society was such a cold place. My self-esteem has bottomed out because I have been living by hearing direct stories of terrible hybrids, monsters, and semi-perverts that are neither men nor women." I was able to focus more on life because I felt more happy that I was living."
The most meaningful item in life was the 'makeup brush'. Jin said, "This is the first makeup brush I bought. It helped me a lot in finding my career path, and it was an item that helped me gain confidence and live as a woman through makeup."
Lastly, Jin said, "I hope that the hatred of diseases will disappear through this Corona 19 incident." "Due to the corona virus that originated in China, Asians were also hated in the West. But this kind of thing was prevalent. A particularly representative example is AIDS. Disease cannot be a valid reason to hate, and I hope people who are infected do not hate it."
He added, "I think it would be great if we win. But rather than that happiness, I want to be a courage and hope for the next generation of transgender friends who will grow up looking at myself," he added.