When we ring the door of the family apartment, this morning of December 6, shortly before 7 am, Vincent, barely awake, thinks that it must be the delivery of a new machine for his father, mechanic. "There are cops at home wtf", wrote, for fun, the young man, then aged 16, on his Twitter account, to his few thousand subscribers. "The problem is that it was really the police", he says a few months later, still waiting for his trial, whose date is not fixed.
The decommissioning was carried out by Vincent himself while in police custody
For administering a site and an application proposing to watch more than 170 free and paid TV channels, called ArTV, the high school student is theoretically liable to a three-year prison sentence and a 300,000 euro fine for "Counterfeit offense by reproduction and representation". A heavy penalty, put forward by the Association against the piracy audiovisual (ALPA), the origin of the complaint, in a statement announcing the closure of ArTV. The decommissioning was carried out by Vincent himself from his smartphone during his custody in the premises of the Judicial Police of Bordeaux, which is in charge of the investigation, still in progress. At the end of this custody, after a long day of interrogation, Vincent emerged free.
To "serve"
It all started in early 2017 when, for "To render service" to a handful of friends met on the Internet, he puts together an Android application (APP) and a web page allowing them to watch French DTT channels from abroad. A small server rented two euros per month can circumvent the geographical blocking set up by the audiovisual groups for issues of territoriality of rights. His site is accessible to all his friends, who begin to share the link on social networks.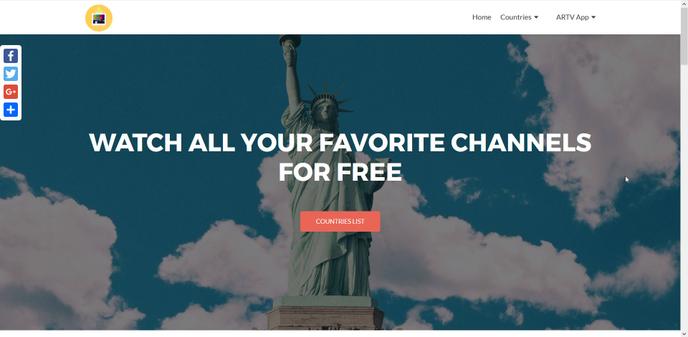 Everything then goes on very quickly. "I soon needed bigger servers" to welcome visitors who count themselves by the hundreds, then by the thousands, explains the teenager. He adds as and when the chains that are asked for him thanks to illegal flows "Easy to find". "People were asking me for beIN Sports, or children's channels for their siblings," remembers Vincent, who does not even need to subscribe to these services, since he only relay the "streams" created by others.
In his room, there is no trace of jumbled wires plugged into innumerable decoders. His job was simply to compress the recovered streams slightly so as not to saturate his servers, thanks to free software, like FFmpeg.
Pay the servers
"I was just following the movement. I never took the time to ask myself if what I was doing was good or notVincent explains. For him, all this is not "Serious" since it's only about making "Link redirection". He does not take any particular security measures to avoid going back to him. So he opts for servers established in France, just trying to "Find the cheapest". After two months, the rental of the latter still costs him 200 euros per month.
To pay this sum, the establishment of banner advertising is a solution. Again, it goes to the simplest, and falls on Pubdirecte.com, governed with which it is "Stayed until the end" and who gives him the money on a PayPal account.
no special security measures to avoid going back to him
Its platform quickly takes on the appearance of a mini start-up. Vincent creates a chat on which users come to chat and ask for help when a channel is inaccessible. ArTV was born: "A" for the action of live channels, "R" for the reactions of users by their messages. The big holidays arrive at the right time, giving the teenager time to meet more and more visitors.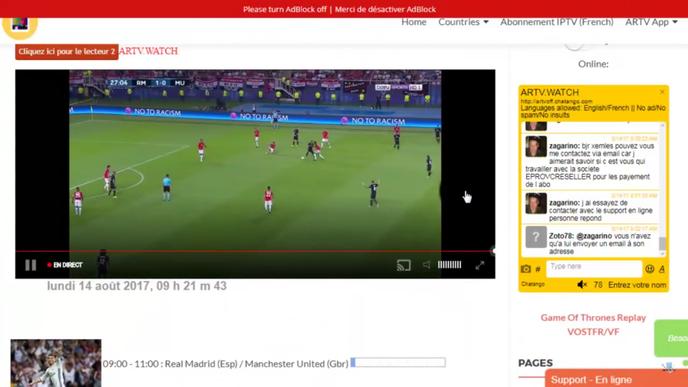 At that time, a person who runs an illegal pay-streaming service – supposed to offer a more stable service with a better image for about 10 euros a month – offers him a deal. Vincent relays on its site the offers "IPTV" of this partner, soon joined by a second, with whom he shares the amount of subscriptions subscribed through this. There is still no question of taking advantage of these cases, which were only used to pay servers always more expensive, insists the young man.
According to ALPA, the banner ads posted on the site and on the ArTV application before their closure, however, reported 3,000 euros per month. If he ever touched too much money, Vincent says he turned it over to "streamers", those people who film themselves playing video games – one of his other passions – sometimes living only of that. He explains : "That money, I did not deserve it. It was not real work. It allowed me to learn a lot of things, for example, on the Web development level. "
"It happened at a point where I was passing legal services"
A hobby very addictive, but extremely rewarding when he receives on Twitter many messages of thanks. "It got to a point where I was getting past legal services, to a point where I could hear people talking about street enforcement.", explains the high school student, face camera, in a video that is now displayed on the homepage of his site. A message in the form of mea culpa that he indicates to have posted on his own initiative the day after his custody. "Notice to anyone wanting to do a site like this, I strongly advise against"can we read in the short text accompanying the video.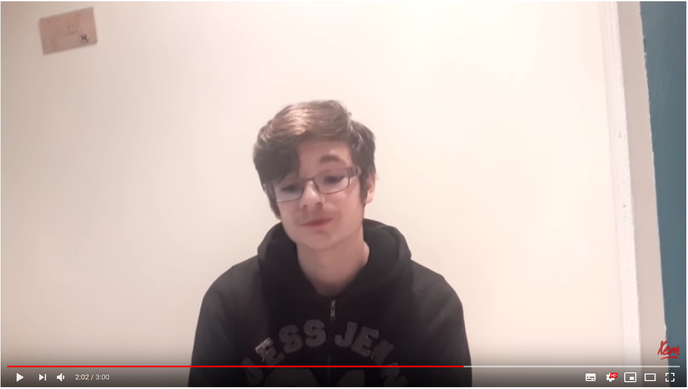 In September 2017, the site ArTV.watch was attended each month by 150,000 unique French Internet users, according to data from Médiamétrie (responsible for calculating the ratings). Especially since the summer was not easy for legal services. Monday, August 28, the overload of servers OCS (Orange group) has for example deprived subscribers of the long-awaited final episode of the seventh season of Game Of Thrones. Recent setbacks experienced by RMC Sport (Altice / SFR) during the first evening of the Champions League and which have "A lot of laughs" Vincent: "They can not run a service for which people pay, while I'm providing something for free …"
The platform comes to be ranked among the 150 Android APP
It is these "Worries in the official services" and " word of mouth " which explain the explosive growth of connections to ArTV. His site, which he managed alone behind his screen, was of course facing the same problems of affluence the night of meetings at the top. Despite some slowdowns, even blackout at peak times, the platform comes to be ranked among the 150 most used Android apps on the Google Play Store. She is still there, but she only gives out a farewell message. The IPTV services with which they provided themselves, probably managed from abroad, are still active.
"It's legal what are you doing? "
In this new school year 2017, this success surprises Vincent, who sometimes feels a little outdated. But he still does not realize he's going big. Rather than closing his site, he only thinks of improving it. "It's legal what are you doing? " sometimes ask her parents, who never know very well what their son does for hours behind the screen. "We do not know anything at allsays the teenager's mother. The computer is the easy nanny … "
A "nanny" who has been smoldering since the age of 4, and even taught him how to read. Preoccupied with health problems, Vincent's mother does not seek further investigation. "Vincent has always had his heart on his hand. He was overwhelmed by this passion. The Internet may be good, but it's dangerous. "
Today, she does not understand why she was not alerted by the authorities before the police ring the door of her apartment on a December morning when the damage was already done. Vincent says he has only received a letter from France 2 asking him to remove the chain from his platform. "What I did immediately"says the young man. But nothing from the Canal + and M6 groups, who are however at the origin of the complaint.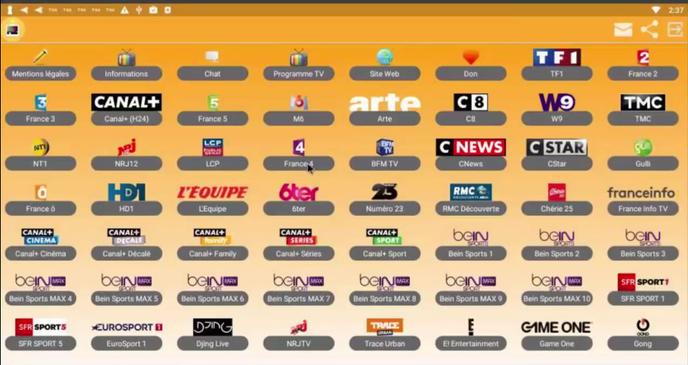 Just before closing, the webmaster does not know exactly how many users use his site, but the application had 800,000 active users. At this time, he spends "In the 2,000 euros" every month to run the machine. These sums pass through the PayPal account created by " someone else " at the request of Vincent, who can not do it himself, not yet major. "That's why we were not aware of it"explains his mother, who does not observe any particular movement on the teenager's bank account.
His mother does not observe any particular movement on the teenager's account
Was Vincent really naive to the point of never having thought about the question of money beyond the payment of servers? Hard to say at this point. One can also wonder about the intentions of the person behind the PayPal account. It is not impossible that the teenager was partly manipulated by one or more individuals with far less commendable intentions than his own. Again, it will be up to justice to clear this up.
A case apart
Despite the impressive number of visitors, ArTV did not have much to do with other sites of the same type, such as Beinsport-streaming.com, closed in June following a new complaint from ALPA. Like many sites of this type, this one was part of a vast network more organized and lucrative, brewing several hundreds of thousands of euros. World Frédéric Delacroix, General Delegate of the Association.
A more lucrative form of management began to appear
The latter specifies, however, that ARTV took, a few weeks before its closure, a path a little different from that it had borrowed until then. A more lucrative form of management of the platform would, he said, have begun to appear. But the vocation and the initial management of ArTV still make it a case well apart. If these two closures have dealt a blow to illegal French streaming, the fallback solutions are numerous and threaten more than ever the economy of the pay channels.
To stem the phenomenon, the parliamentary report led by Aurore Bergé on the "Regulation of audiovisual communication in the digital age", presented in October, advocates "Create a specific device to temporarily block, within an extremely short time, access to site pages broadcasting without authorization live streaming content".
The new audiovisual law, which should come into existence in 2019, could give more prerogatives to the Hadopi. The High Authority for the dissemination of works and the protection of rights on the Internet has so far no take on streaming.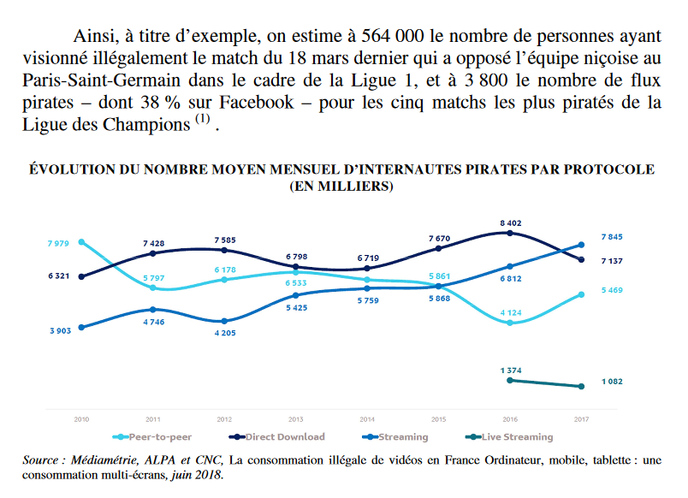 For his part, between the management of the site and his legal troubles, Vincent, who did not "Never had much confidence in school", put his studies a little aside and redoubled his first. His goal remains to pass a baccalaureate pro digital systems, but he has so far failed to find employers. Ten months after the closure of his platform, he hopes that his trial will take place as soon as possible, to move on and think about the future.